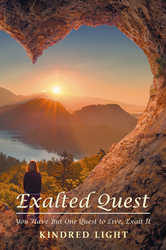 "You cannot read this book without it changing you for the better."
PHOENIX (PRWEB) May 29, 2019
An abusive marriage, alcohol addiction and incarceration, divorce and custody battle, her teenager's gender identity crisis, and the untimely death of her mother left Kindred Light broken and in a dark place. In her memoir, Exalted Quest: You Have But One Quest to Live, Exalt It, Kindred provides a step-by-step account of how she learned to see the crises of her past as beautiful, perfect, and divine occurrences which ultimately brought her into a place of compassion, fearlessness, and unconditional love.
"Suddenly, all the traumatic events of my past made sense," said author Kindred Light. "I saw them for their lessons and higher purpose and was able to finally move through life with peace and love."
Exalted Quest shows readers that life isn't always about changing our circumstances, rather, it is about changing how we approach those circumstances throughout our individual journeys.
Real-life stories describing the intense situations that transformed Kindred are also used to provide the framework for readers to successfully overcome their own unique suffering and burdens in life. Readers will discover how to access their inherent inner power, creativity, infinite potential, and healing energy to finally be free of their past.
Kindred adds, "Each individual has an inner guide that can be called upon in any given moment. I hope the reader learns to seek the wise one within and to gain mastery over their negative reactions. Each of these moments is a stepping stone that can transform and expand their consciousness. My hope is that the reader will recognize these opportunities for growth and learn to take the higher path of awareness towards emotional freedom."
What if you could transform your hardships into healing and joy? Exalted Quest is a roadmap for this unfolding process of conscious evolution and discovery. Learn the practical and powerful techniques to fulfill your quest and live an exalted life.
Colin Tipping, author of Radical Forgiveness, shares, "You cannot read this book without it changing you for the better."
Exalted Quest: You Have But One Quest to Live, Exalt It
By Kindred Light
ISBN: 9781982221805 (softcover); 9781982221782 (hardcover); 781982221799 (electronic)
Available at the Balboa Press Online Bookstore, Amazon and Barnes & Noble
About the Author
Kindred Light is a yogi and certified yoga teacher, currently serving full time in business and finance at a spiritual community in northern California. Prior to this, she held leadership positions as an MBA/CPA in non-profit and corporate organizations for over two decades. She has studied both Eastern and Western wisdom traditions from such texts as A Course in Miracles, The Untethered Soul, Autobiography of a Yogi, Radical Forgiveness, and the Bible. She has been in recovery from alcohol abuse and a toxic marriage for over a decade. Her life was transformed through a unique practice of mindfulness that harmonizes the intellectual realm of thought and the emotional realm of the heart. She has twin young adult children, who are her source of strength and inspiration.
###