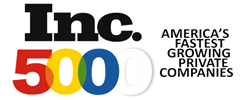 2016 was an absolutely amazing year for our company - NEWMEDIA founder and CEO Steve Morris
Denver, CO (PRWEB) August 01, 2017
Denver-based NEWMEDIA, one of the country's top agencies for website design and development, has been ranked at #111 for fastest-growing software companies in the U.S. by Inc. Magazine for 2016-2017. The company reported an astounding 247.54% year over year growth from 2015. Some of NEWMEDIA's clients include the Denver Rescue Mission, the University of Colorado, the State of Colorado, YMCA, Six Flags, Amtrak and Delta Airlines. In addition to NEWMEDIA's national ranking overall, Inc. Magazine placed the company at #42 for all Colorado companies, and #8 for Colorado software companies.
Building its reputation for 20+ years, NEWMEDIA Denver has garnered numerous accolades. In addition to its 2016-2017 ranking by Inc. Magazine, the company was recently named the #1 Denver Website Design Agency by the Denver Business Journal in its 2016-2017 Annual Book of Lists.
"2016 was an absolutely amazing year for our company," said NEWMEDIA founder and CEO Steve Morris. "Our revenue more than doubled, we outgrew our old location and moved behind Union Station in beautiful downtown Denver, we doubled our staff and received multiple awards. It's certainly positive feedback in support of our unique position – an established, proven agency that is also willing to take risks and innovate like a startup."
These are just a few of the many reasons that NEWMEDIA Denver received Inc. Magazine's high ranking.
NEWMEDIA Denver is more than just a web design company, it's a full-service, comprehensive agency providing professional services which include SEO and PPC Management, Social Media Marketing, eCommerce, Content Creation and Curation, Mobile Responsive Websites and Native Mobile Apps, 3rd Party Integrations, Security, Monetization, and Email Marketing. They take pride in being able to handle virtually every facet of their clients' projects. Their back-end web developers are fluent in every aspect of web development and primarily spend their days integrating with and building complex systems atop the Drupal API and other web frameworks, utilizing PHP, MySQL, jQuery, and a wide variety of third-party APIs.
For more information, visit https://www.newmediadenver.com.