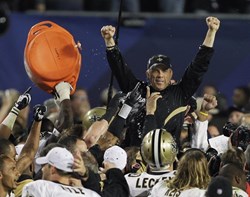 (PRWEB) September 15, 2013
The New Orleans Saints have started off their 2013 season right, with a win against the Atlanta Falcons. The team has two things back that they were missing last year, their head coach, and a better than average defense. Head coach Sean Payton has returned from his season long suspension, and it looks like the Saints are back in business. With Payton back, and Brees at quarterback, it will be hard to beat this team against their offense. It is uncertain yet if their defense will be another flop, but so far, it is looking good. In New Orleans season opener at home last weekend, the team walked away with a 23-17 victory, and over last year's NFC South champions, nonetheless. Atlanta won 13 games last year, and is an NFL favorite for sure. Beating the Falcons can only do well for this Saints team, as heads are looking their way now. The win for the Saints was the first time ever that they beat the Falcons at home in a season opener. In the win, Drew Brees had a stellar 74 percent completion rate, 357 yards, and two touchdowns. Brees completed passes to seven different receivers in the first half, and overall, the team's passing game proved its importance in the impressive win.
The Saints next game will be played on Sunday, September 15th against the Tampa Bay Buccaneers. When these two teams met twice last year, the Saints took both contests. The Saints took the first with a final score of 35-28, and the second 41-0. With the way they have started off this season, and with the results of last season's contests, it is clear which team will most likely come out on top.
Although it is only one week into the 2013 season, the New Orleans Saints are alone at first place in the NFC South division. Both the Buccaneers and Panthers fell last week, as well as the Falcons who played against the Saints. If the Saints can pull off another win this weekend, they will be 2-0 and have a great start in the journey to the Super Bowl. To watch Brees and the Saints have a comeback year in 2013, buy your Saints Tickets at http://www.NewOrleansSaints-Tickets.net. Here customers can also find a social media fan hub to stay connected as well as great customer service when help is needed. So buy your Saints tickets today!