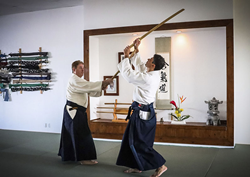 "Our aikido community is strong. We are like family at the dojo. It's important for me to always give back to my students. Through Zoom webinars, we are able to connect worldwide with aikido practitioners." Gentil Pennewaert Shihan, Newport Beach Aikikai Dojocho
NEWPORT BEACH, Calif. (PRWEB) September 03, 2020
With the National shutdown order of fitness centers including martial arts studios during the pandemic, some aikido dojos have pivoted their teaching strategies to include weapons training and holding online classes and webinars.
As the only full-time aikido school in Orange County, Newport Beach Aikikai - Shin Do Kan Dojo continues to thrive with the support of its loyal students and Gentil Pennewaert Shihan's years of weapons training experience.
The new Newport Beach Aikido website was launched in July 2020 with amazing images and videos from our professional student photographers and web designers.
"We are very fortunate to have such loyal students who continue to support the dojo by continuing their membership, donating professional services and helping out in every way they can. Our aikido community is strong. We are like family at the dojo. It's important for me to always give back to my students. Through Zoom webinars, we are able to connect worldwide with aikido practitioners. Many of our affiliate dojos in Pennsylvania, Virginia, and Belgium continued to group our students together for special seminars. We have relied on Zoom and Facebook live to share the online classes." Gentil Pennewaert Shihan, Newport Beach Aikikai Dojocho
On August 29th, the dojo organized a special webinar on Zoom for the 10th Anniversary passing of the late Seichii Sugano Shihan, a Master swordsman and Sensei to Gentil Pennewaert Shihan. The special event was a private event and was well attended by students from many dojos.
Aside from Zoom webinars, the dojo is now offering only weapons-based classes. Sensei Pennewaert has decades of experience with the jo, bokken (practice samurai sword), and tanto. Students are practicing social distancing with the jo and bokken with unique exercises to develop time, distance and direction. The Sugano Sword System 1 and 2 is available online through the website with digital downloads.
About Newport Beach Aikido
As Orange County's #1 rated Aikido dojo, the world class dojo is made up of a cosmopolitan and diverse group of students and is led by chief instructor Gentil Pennewaert Shihan, 6th Dan. Students learn the traditional art of aikido as Newport Beach Aikido continues the legacy first started in Japan during the last century by the founder Ueshiba Morihei. Sensei Pennewaert insures a high standard of safety at all times and provides a solid foundation in the basic fundamentals of aikido technique and etiquette. The dojo offers adult classes, children classes, seminars, and summer camps to offer the best Aikido training.