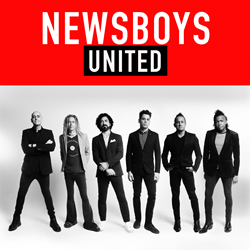 NASHVILLE, Tenn. (PRWEB) May 21, 2019
Celebrating a groundbreaking new era following the return of former members Peter Furler and Phil Joel last year, Christian music supergroup Newsboys has made history once again as "United" debuts at #1 on the Billboard Top Christian Albums chart following its May 10 release. The FairTrade Services project also debuts at #20 on The Billboard 200 as the top-selling Christian recording of the week, according to the publication's May 25 chart.
In addition, the album's lead single, "Greatness Of Our God"—a triumphant worship anthem bridging the past and present with Furler and Newsboys' Michael Tait on lead vocals—is currently #9 on Billboard's Christian AC Monitored chart with a bullet and #12 on Billboard's Christian Audience chart with a bullet. Penned by Colby Wedgeworth, Bryan Fowler and Ethan Hulse, "Greatness Of Our God" follows in the footsteps of such Newsboys megahits as "He Reigns," "We Believe" and "God's Not Dead."
"United," a 10-song collection of compelling praise & worship moments and powerful pop tracks, was produced by Furler and Geoff Duncan and showcases four songs co-penned by Furler. The digital deluxe edition of "United" is also now available, featuring Newsboys' 2017 anthem "The Cross Has The Final Word" and "Rejoice," a new track written by Furler and Steve Taylor, among other selections.
"Putting Michael, Duncan, Jody and Jeff back together with Peter and Phil is among the highlights of my career managing the Newsboys, since first discovering them in Australia in 1986," says Wes Campbell, First Company Management founder and Newsboys manager. "Seeing them come back together and perform again—and now creating music together for this special album—brings me joy."
Newsboys United have played more than 150 shows together since reuniting in 2018. Comprised of Michael Tait, Peter Furler, Phil Joel, Duncan Phillips, Jeff Frankenstein and Jody Davis, the supergroup headlined the 43-city Winter Jam Tour Spectacular earlier this year and recently joined forces with multi-Platinum®, multi-GRAMMY®-winning singer/songwriter Michael W. Smith for "Surrounded & United: The Tour."
Among the most influential bands in Christian music history, GRAMMY®-nominated, Platinum®-selling Newsboys have sold more than 10 million units, amassed eight Gold® certifications, 33 #1 radio hits, four GRAMMY® nominations, two American Music Award nominations and multiple Dove Awards. Since their formation in Australia three decades ago, Newsboys have released 24 recordings and their signature songs include "We Believe," "He Reigns," "Miracles," "Born Again" and the Platinum®-certified mega hit, "God's Not Dead."