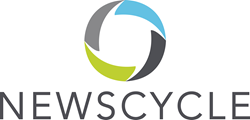 Bloomington, MN (PRWEB) August 17, 2017
NEWSCYCLE Solutions is pleased to announce its fourth anniversary as the world's largest supplier of software technology and services for the global news media industry.
Newscycle celebrated this milestone with the completion of 1,375 successful customer projects, including hundreds of system implementations, upgrades and professional services engagements. During the company's first four years, Newscycle has added 675 new customers to its marquee list of news media publishers and broadcast companies located in 30 countries around the world.
Newscycle was founded in 2013 by Vista Equity Partners through the buyout of Digital Technology International (DTI) and Saxotech. The Atex AdBase business was merged into the Newscycle portfolio in late 2013 and MediaSpan was added in 2014, providing a full suite of content management, advertising, circulation and audience solutions for local news media companies. In June 2016, Newscycle acquired DoApp, a leading provider of mobile news and advertising application technology for news organizations, broadcasters and other content providers.
"It gives me great pride to note that Newscycle has achieved this milestone through the hard work and dedication of our global team, which has more than 3,500 combined years of experience working in the news media industry," said Newscycle President, Scott Roessler. "We have dedicated ourselves to technology innovation and a focus on transformative digital solutions, and we will continue to deliver the highest quality products and services demanded by the mission-critical news media industry."
Over the past four years, the Newscycle development team produced 43 major software releases and 68 rapid or maintenance releases. This includes seven updates to SalesLink, the company's HTML5-based ad sales, CRM and inventory management application designed for the Newscycle Advertising system. Launched in June 2016, SalesLink is live today at 16 customer sites around the world, including the Minneapolis Star-Tribune, the Alaska Dispatch News, the Las Vegas Review-Journal, the Swift group, Hagadone, Bonnier (Sweden), Borsen (Denmark), and Polaris (Norway).
Earlier this year, Newscycle also released SubscriptionLink, a self-service portal that allows readers to securely manage their print and digital subscriptions from any web or mobile device. SubscriptionLink is live today at the Hearst Group, publisher of the San Francisco Chronicle.
In late 2016, Newscycle also released ONSET, the first enterprise-class digital content management platform built from the ground up and designed specifically for media businesses. Newscycle has delivered 11 ONSET rapid releases, and the system is being implemented at Newscycle customer sites in North America and EMEA for managing digital-first workflows and enabling the create-once-publish-anywhere exchange of news content across all online, print and mobile channels.
In the words of one senior executive from a major Danish news media company, "Newscycle platforms are making a big difference in our business processes as we grow and move forward."
About NEWSCYCLE Solutions
NEWSCYCLE Solutions develops and delivers software technology that empowers the global news media industry. Our editorial, advertising, circulation and mobile solutions enable publishers to drive profitability, accelerate digital business models and optimize core print operations. We help our clients create stronger, better-informed communities while safeguarding the integrity of news, advertising and customer information. Newscycle is a trusted partner serving over 1,200 media companies with 3,000 properties producing more than 8,000 titles in 30 countries. Our company is headquartered in Bloomington, MN and has U.S. offices in Florida, Michigan and Utah; with international offices in Denmark, Germany, Malaysia, Australia, Sweden, Norway, Canada and the United Kingdom. Please visit http://www.newscycle.com for more information or write to us at info(at)newscycle.com.