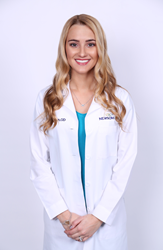 We are thrilled to welcome Dr. Grimm to the practice. Her expertise is a great addition to Newsom Eye!
TAMPA, Fla. (PRWEB) October 05, 2018
Newsom Eye, an ophthalmology practice, welcomes optometrist Aimee Grimm, OD to its Tampa practice. Dr. Grimm specializes in comprehensive eye exams and advanced contact lens fittings including soft, rigid gas permeable, multifocal, hybrid, scleral lenses, and corneal refractive therapy (CRT) lenses. Dr. Grimm treats patients for their pre-operative and post-operative cataract and LASIK care, as well as managing various eye conditions such as dry eye and keratoconus.
"We are thrilled to welcome Dr. Grimm to the practice. Her expertise is a great addition to Newsom Eye," says Dr. T. Hunter Newsom, Founder and Medical Director of Newsom Eye.
Newsom Eye is proud to share that Dr. Grimm was honored with the Bernard Blaustein Resident Excellence Award for 2018 from Salus, Pennsylvania College of Optometry. This prestigious award is given to one graduating resident that exemplifies optometric excellence and outstanding growth during their residency training.
Dr. Grimm enjoys spending time with her husband and dogs at the beach. Her hobbies include traveling, yoga and running. She also enjoys watching her favorite Pennsylvania sports teams and volunteering at charity functions.
Dr. Grimm is now seeing new patients. To schedule an appointment patients can visit NEWSOMEYE.com or call (813) 908-2020.
About Newsom Eye
Established in 2001 by T. Hunter Newsom, MD, Newsom Eye is a multispecialty ophthalmology practice offering complete eye care, from routine eye exams to complex cataract surgery. The practice offers three clinical locations in Sebring, Carrollwood, and South Tampa. These clinical locations are supported by onsite, fully equipped AAAHC accredited outpatient surgery centers located in Sebring and Carrollwood.
Newsom Eye's mission is to deliver top quality physicians and surgeons, supported by the most advanced research facilities and technology, while emphasizing customer care. Newsom Eye offers comprehensive eye care including Newsom Bladeless Laser Cataract Surgery Technique, Newsom Eye Custom LASIK, cornea, glaucoma, retina, oculoplastics, dry eye clinic, routine eye exams, and optical services.
Newsom Eye has been awarded numerous accolades, including "Best Eye Surgeon" by Tampa Tribune's Best of the Bay and "Best Eye Doctor", "Best Surgeon", and "Best Eye Clinic" by Sebring's Highlands Today's People's Choice.