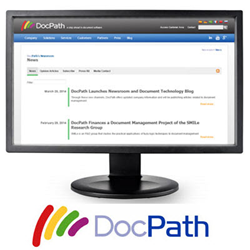 The Press section of DocPath's website, which is now called the "Newsroom", offers journalists a wide variety of updated company information.
Suwanee, GA (PRWEB) March 25, 2014
DocPath has recently launched its new company blog – a section where (prospective) clients and journalists will find interesting technological contents related to document management. Apart from DocPath´s blog, the company has also reorganized and expanded its online newsroom with updated information about the company and DocPath Solutions.
Technology Post
The new document management blog will feature opinion articles in Spanish and English, written mainly by DocPath consultants. DocPath has launched the blog with the goal of creating a platform for discussing issues that are of interest not only to specialized journalists and document management experts, but also to technology lovers in general.
Through the blog, DocPath intends to share its business philosophy, based on more than twenty years of experience in the document management sector.
Company Information News Room
The Press section of DocPath´s website, which is now called the "Newsroom", offers journalists a wide variety of updated company information. Traditional areas, such as News and Opinion Articles, have been expanded with new subsections, such as the Press Kit, which offers a large number of documents and files ready for download.
More specifically, the Press Kit offers company information, an image gallery and a section including audiovisual material. The available company information consists of the DocPath company profile and detailed information about DocPath´s document management software, among other files. The image gallery offers images related to DocPath Solutions. Finally, the audiovisual area provides commercial videos that visually explain how DocPath Solutions cover the entire document cycle.
New features of the Press section on DocPath´s Website include: a search engine in the News and Opinion Articles areas, which allows journalists to easily find the desired information, the RSS icon in the Newsroom, for those who would like to be informed of all the latest DocPath news, and the Subscribe subsection, to subscribe to DocPath´s Newsletter and follow DocPath on LinkedIn, YouTube and Google+.
About DocPath
DocPath is a leading document technology software manufacturer. Founded in 1992, its headquarters is located in Madrid, Spain, with two other design and development offices. DocPath solutions are found in companies all over the world. Among its international clients are prestigious banks and first-class corporations, which are aided by DocPath solutions by simplifying the complicated and critical tasks involving design and the distribution of documents. DocPath maintains a strong commitment to R&D&i, an area that receives a good amount of its revenue, and in which lies the key to the company´s success.
For more information, visit http://www.docpath.com.
DocPath is a registered trademark of DocPath Corp. All rights reserved. Other trademarks may be the property of their respective owners..