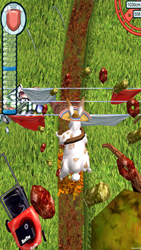 Crazy Critter Dash is fun, it's addictive, and it's easy to play! What's not to love!
(PRWEB) August 19, 2014
The "Crazy Critter Dash" was featured on NewsWatch as part of its monthly NewsWatch AppWatch, which takes a look at the latest and coolest apps on the iOS, Android, and Windows markets. Andrew Tropeano, a host of NewsWatch and a mobile technology expert, conducted the app review and shared with viewers how it's the perfect running game app.
For the gamer who enjoys running games and animals, Crazy Critter Dash is an ideal game for indulging in a fun and quick reacting in-game experience.
Crazy Critter Dash is an app available for both the iOS and Android devices that's fun and more exciting than other similar games. Unlike other running games, it forces the gamer to have quick reactions to the obstacles as the scene changes as the 'critter' moves. The game creates an on the edge of your seat experience that other running games can't compare to.
Crazy Critter Dash allows the user to pick their critter and fun outfit options to wear as they dash through a person's home. As the player progresses, a a vile on the left side of the screen fill up, indicating their success.
Crazy Critter Dash is available for both iOS and Android devices for free. Visit the appstore and search "Crazy Critter Dash" to download or visit https://itunes.apple.com/us/app/crazy-critter-dash/id879172938?mt=8h to learn more.
About NewsWatch
NewsWatch is a weekly 30-minute consumer oriented television show that airs on the History Channel, FYI Network, and ION Network. NewsWatch regularly features top technology products and services, mobile applications for iOS, Android, and Windows devices, unique and beautiful travel destinations around the world, health and medical tips, and entertainment interviews on the show. NewsWatch airs on the History Channel at 6:00 – 6:30 AM ET/PT and on the FYI Network from 7:00 – 7:30 AM ET.
NewsWatch is located in the greater Washington, DC area and has been on air for over 25 years. For more information or to watch the most recent episode, visit http://www.newswatchtv.com/crazy-critter-dash.html.