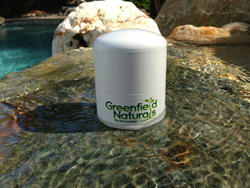 Washington, DC (PRWEB) November 22, 2014
"Greenfield Naturals" was featured on NewsWatch as part of its monthly Tech Report, which features the latest and coolest technology products available to consumers. Mallory Sofastaii, a technology expert and reporter for NewsWatch, conducted the product review and shared with viewers how it can easily improve the flavor of your water.
From pollution to hazardous substances in water, harmful chemicals are everywhere. It's important that everything is done to remove these chemicals, especially in water.
A unique company, Greenfield Naturals, has recently created the Harmonizer. It's filled with natural elements to make water taste better, while removing foul odors and minerals that stick to pipes, faucets, and glassware.
There are two different versions of the Harmonizer, the Snap On version and a Cartridge. The Snap On is wrapped around a waterline inside or outside the house. The Cartridge is made for people that don't have access to a waterline and can be used in many places in the house. Just place it near a waterline for maximum benefits.
Both Harmonizer products are filled with natural elements and minerals to increase water clarity, eliminate mineral deposits, and offer cleaner, healthier, and more vibrant water. Customers who already use these products have felt an increase in strength, balance, and mental acuity.
To learn more, visit http://www.GreenfieldNaturals.com.
About NewsWatch
NewsWatch is a weekly 30-minute consumer oriented television show that airs on the History Channel, FYI Network, and ION Network. NewsWatch regularly features top technology products and services, mobile applications for iOS, Android, and Windows devices, unique and beautiful travel destinations around the world, health and medical tips, and entertainment interviews on the show. NewsWatch airs on the History Channel at 6:00 – 6:30 AM ET/PT and on the FYI Network from 7:00 – 7:30 AM ET.
NewsWatch is located in the greater Washington, DC area and has been on air for over 25 years. For more information or to watch the most recent episode, visit http://newswatchtv.com/tech-report.html.