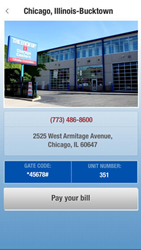 Washington, DC (PRWEB) July 24, 2014
"Lock Up Self Storage" was featured on NewsWatch as part of its monthly Biz Report, which takes a look at small and medium sized companies that are making waves in their industry. Mallory Sofastaii, a host of NewsWatch and a business expert, conducted the company review and shared with viewers how they've recently released a mobile app for their customers.
One of the major players in the field that's leading the charge in the self-storage industry is The Lock Up Self Storage. They're based out of Chicago with facilities across the country, from Hawaii to New York.
What's setting them apart from other players in the industry is their eagerness to embrace modern technology. From electronic code access and climate controlled units to their mobile application, Lock Up Self Storage is building facilities that make self-storage easy and convenient.
Their mobile application, which is available for free on iOS and Android devices, is saving their clients and their managers time by saving access codes, unit numbers, and facility addresses. Their customers can also pay their bills and get directions to their unit from the app. It's a perfect example of a traditional industry using modern technology to create a more accessible and seamless experience for the end user.
The Lock Up Self Storage facilities are also on the high end when compared to their competitors. They offer free trucks for rental, carpeted hallways, and rooms for inventory or even wine storage.
To learn more about Lock Up Self Storage, just head to http://www.thelockup.com.
About NewsWatch
NewsWatch is a weekly 30-minute consumer oriented television show that airs on the History Channel, FYI Network, and ION Network. NewsWatch regularly features top technology products and services, mobile applications for iOS, Android, and Windows devices, unique and beautiful travel destinations around the world, health and medical tips, and entertainment interviews on the show. NewsWatch airs on the History Channel at 6:00 – 6:30 AM ET/PT and on the FYI Network from 7:00 – 7:30 AM ET.
NewsWatch is located in the greater Washington, DC area and has been on air for over 25 years. For more information or to watch the most recent episode, visit http://newswatchtv.com.