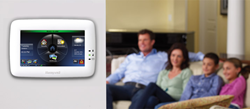 The Tuxedo Touch is the next big thing in home automation!
(PRWEB) May 30, 2014
The "Tuxedo Touch" by Honeywell was featured on NewsWatch as part of its monthly Tech Report, which takes a look at the latest and coolest technology available to consumers. Andrew Tropeano, a host of NewsWatch and technology expert, conducted the product review and shared with viewers how it's the next step in full home automation.
Home automation is the newest tech trend hitting consumers. One of the more exciting tools that's on the market this month is the Tuxedo Touch by Honeywell. It's a fully automated home controller that can manage security devices, cameras, thermostats, lights, locks and shades.
The controller is a touch-screen device that is placed anywhere in the home, maybe near a bedroom or front door. It's voice controlled, so consumers can talk to it and turn on presets with their voice. Home owners can control their home directly through it, or control it through an iOS or Android smart phone or tablet anywhere with access to wifi. Users can also use their Total Connect app and control the system from virtually anywhere in the world. If someone wants to turn off the lights and lock the front door while away from the house, or if they want to adjust the heat and turn on the alarm while lying in bed, they can easily do it.
For consumers with cameras installed in the home, the Tuxedo Touch will connect with up to 10 cameras and will show up to 4 cameras on screen and record video on demand.
The Tuxedo Touch is a highly cost effective security and home automation solution that can be purchased from professional security dealers. To learn more, visit http://homesecurity.honeywell.com/tuxedo_touch.html.
About NewsWatch
NewsWatch is a weekly 30-minute consumer oriented television show that airs monthly on the History Channel, Bio Channel, and ION Network. NewsWatch regularly features top technology products, unique and beautiful travel destinations, health tips, medical breakthroughs, and entertainment news on the show. A recent addition to NewsWatch, AppWatch is a weekly segment that provides viewers app reviews and game reviews of the latest and hottest apps and games out on the market for iOS and Android devices. The show airs in 180 markets nationwide as well as all of the top 20 broadcast markets in the country, and is the preferred choice for Satellite Media Tour and Video News Release Distribution. For more information or to catch all the segments from the April show, visit http://newswatchtv.com.
NewsWatch airs monthly on the History Channel at 6:00 – 6:30 AM ET/PT and on the Bio Channel from 7:00 – 7:30 AM ET.