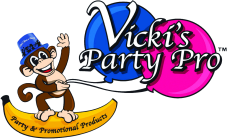 At last countdown to the New Year begins!
Corcoran, MN (PRWEB) November 20, 2013
With the holiday season starting to get underway, party planners and people hosting large parties are searching for ways to make their holiday party special. Vicki's Party Pro is proud to unveil a new product line of colorful giant cups that look like electric guitars, complete with straps for hands-free carrying. 
Each plastic cup holds up to 100 ounces of champagne or any other drink, or the included 23-ounce insert can be used to lower capacity. Wide openings make the cups easy to fill, and the included straws make drinking a breeze.
More than mere drinking cups, these multi-tasking festive cups feature buttons on the necks of the guitars that party guests can press to flash lights and play guitar-riffs. These fun features are sure to be big hits throughout the evening and especially as the last countdown to the New Year begins. There is no need for separate noise makers when the cups produce festive sounds.
Guests will want to take these distinctive, unique guitar cups home with them as souvenirs of their evening. When customers choose the imprinting option, their names and brands will travel home with the guests. It's a unique way to promote brand names and associate them with people's happy memories. Furthermore, once taken home, the guitar cups are likely to become conversation items, which will increase the reach of the imprinted names.
Vicki's Party Pro is a small-business success story, a testament to how much one determined woman can accomplish by living life on her own terms. Vicki Friedrichs always wanted to create a business that would make people smile. She started Party Pro in her basement 15 years ago. By working hard, being persistent and maintaining a commitment to having fun, Vicki steadily grew the business to where it is today. Now, the company has nine employees who love the party favor business as much as Vicki does. Vicki and her employees sell over a quarter of a million party and promotional products and New Year's Eve party favors.
Vicki's Party Pro has become known as the "queen of discount party and promotional supplies" and prides itself on being a one-stop party shop. Customers of this business-to-business company include party hosts seeking distinctive decorations and party favors, companies wanting to increase brand recognition with promotional giveaway items, and country clubs planning special events. Some of the more than 250,000 party and promotional products available include pens, balloons, beads, apparel, LED products and convention bags. Customers can get "try before they buy" samples to ensure the color, size and quality are exactly what they need.
Customers can contact Vicki's Party Pro at any time via phone at 877-677-5058, by fax at 952-934-6184 or by email at Sales(at)VickisPartyPro(dot)com. More information is available on the company's website at http://www.vickispartypro.com.