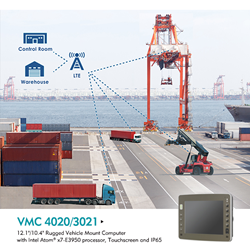 "VMC 4020 and VMC 3021...can further provide higher safety and enhance work flows, leading to further effective cost reduction in time and money."
FREMONT, Calif. (PRWEB) September 11, 2018
NEXCOM has already built a reputation of providing all-in-one industrial vehicle mount computers (VMC) that give users wide application possibilities into Internet of Things. Now, NEXCOM has further advanced the series with its latest VMC models that reinforces their functionalities by providing insight into better solutions in response to users' needs.
NEXCOM's 12.1" VMC 4020 and 10.4" VMC 3021 are both installed with cameras extending and widening driver's eyesight to increase safety. The independent UPS frees users' worries about any possible abrupt panel shutdowns. The 2 built-in SIM slots provide options for switching between signal providers for border crossing, or better receptions or rates. iButton is also available for users who want to prevent equipment operation or vehicle startup without authorization.
Harsh environments that lead to work interruption are often seen as normal by frontline users, which generate unnecessary costs every day. VMC 4020 and VMC 3021 provide alternative choices with complete high resistances, certified as necessary, including: IP65 water- and dust-proof, U.S. military Standard shockproof, 1200nits sunlight readable capability, wide temperature, wide power input, and E-mark for European regulation standards.
Customization is always encouraged for our clients to satisfy individual demands, and VMC 4020 and VMC 3021 are no exceptions. With CAN Bus, IP cameras are possible by request to through data acquisition advance maintenance and diagnostics. 4 mini-PCIe as extension slots are reserved responding to any of your great ideals at any time by our easy and fast customization services.
"More than just being satisfied by existing solutions, NEXCOM is always researching better solutions for our users," the Director of Product Management for Mobile Computing Solution of NEXCOM, Tony Chiu said. "VMC 4020 and VMC 3021, mainly featured with cameras, independent UPS and CAN Bus, can further provide higher safety and enhance work flows, leading to further effective cost reduction in time and money."
Port and warehouse operation are frequently exposed to extreme environments and outdoor weather, as well as required of cooperation among various moving vehicles with equipment sometimes stay far apart, including forklifts, (overhead) cranes and hoists. NEXCOM's Vehicle Mount Computer series provides a thorough design to bring port and warehouse management into IoT connection, reducing instability and interruption factors of work flow.