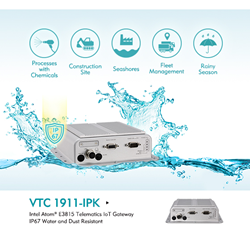 FREMONT, Calif. (PRWEB) August 07, 2018
NEXCOM has announced the in-vehicle computer VTC 1911-IPK with high resistance against harsh environments, including IP67 precision design water- and dust-proof, as well as U.S. military standard shockproof.
In serving their clients with a smooth entry into IoT ecosystem with environmental restrictions in mind, such as bad weather or extreme working conditions, NEXCOM's VTC 1911-IPK features waterproof IP67 rating to a depth of 1.0 meter for 30 mins. Additional storage can also be protected with inner SSD tray. For telecommunication, its 3G/4G eCall built-in circuit can provide not only network connectivity, but also phone calls, while 2 SIM slots makes service switching at border crossings easy. CAN 2.0B for maintenance and diagnostics is also included, which allows for remote and real-time management of vehicles when used with the built-in advanced GPS receiver and mobile connectivity. One benefit of this is that managing long transportation/supply line is more efficient, which in turn lowers costs. Additionally, more customized functionality is possible from its optional specifications, such as an HDMI port as the second display port (by request) for dual display in both clone and extension modes.
With the VTC 1911-IPK's compact and lightweight design, it is especially made for vehicles with limited space to accommodate the computer system, but without compromising or sacrificing its features. Lastly, it can be equipped into new devices, but also adapted into legacy.