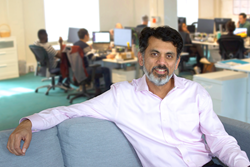 SAN MATEO, Calif. (PRWEB) January 30, 2020
Nexkey, an end-to-end provider of mobile access control solutions, has appointed technology veteran Amit Rele as VP of Product to lead product management and product marketing. The appointment, announced today at Upfront Summit, follows Nexkey's $6 million Series A funding round led last year by Upfront Ventures.
Before joining Nexkey, Rele worked across the spectrum of consumer and enterprise technology companies, from startups to Fortune 500 companies like AT&T and IBM. Most recently, he was Product Head of WiFi Systems and Smart Speakers at NETGEAR (NASDAQ: NTGR), the networking multinational, where he scaled the Orbi Mesh WiFi product category. His product lines won numerous awards from CNET, Forbes, and PC Magazine, and were named to Time Magazine's prestigious 50 Most Innovative Products of 2018 list.
At Nexkey, Rele will spearhead several major new product releases in 2020, underpinning the company's expansion into new geographies and market sectors. The new offerings will build upon Nexkey's game-changing access-control platform, a mobile solution that combines with cloud-connected, universally compatible hardware to turn any door smart, allowing companies to do away with physical keys and keycards. Since closing its funding round in October 2019, the company has also aggressively expanded its manufacturing, software, and sales teams as it seeks to transform the enterprise-grade access-control and smart building industry in 2020 and beyond.
"From the first time that Amit and I met, it was clear that his mission of simplifying people's lives through technology aligned with Nexkey's vision," said Eric Trabold, Nexkey's CEO. "We're looking forward to working together towards a true keyless future and growing from a leading platform for SMBs towards Enterprise as a next step."
Both Rele and Trabold are attending the Upfront Summit to discuss Nexkey's product roadmap and meet with investors. The annual event hosts more than 1,000 top investors, entrepreneurs, and leaders for an invitation-only event in Los Angeles. With two days of compelling content, conversation, and connection, Upfront Summit showcases the best of technology, innovation, and creativity, from established global brands to bleeding-edge disruptors.
About Nexkey
Nexkey makes smart, secure, and simple access possible for every business through hardware and software components which consolidate all of a business's traditional keys into a single cloud-based platform. Nexkey's hardware is compatible with every door, and is designed to blend into any space. Managers can oversee access to their whole space using one convenient mobile app. Nexkey was founded in 2013 and is backed by top-tier VCs including Upfront Ventures and K9 Ventures. For more information, please visit https://www.nexkey.com/.