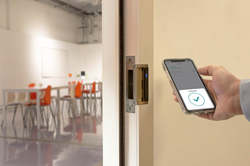 SAN MATEO, Calif. (PRWEB) June 16, 2020
Nexkey, a leading innovator in the cloud and mobile-based access control industry, trusted by over 20,000 users, today announced the launch of Nexkey Solo, the world's first wireless, battery-powered door strike.
Nexkey Solo is an all-in-one device that installs in minutes right into the doorframe, and connects to Nexkey's cloud service through a user's mobile device. Nexkey Solo is invisible to the end user. Unlocking the door and managing access is done solely through the user's smartphone or Apple Watch, making Nexkey Solo a completely touchless solution.
Traditional access control solutions as well as other newcomers in the space require at least three hardware components: a reader, an access control panel and electronic door hardware. This drives up installation effort to hours and can cost $2,000 or more per door.
In May of this year, Nexkey surveyed 1,264 people who work in office spaces. While 45% of people say access control has become more important due to Covid-19, only 24% of respondents are open to pay more than $1,000 for access control per door.
"Our vision at Nexkey is for every business to be able to afford access control that allows them to open their doors as safely and effortlessly as possible." says Eric Trabold, CEO of Nexkey. "Nexkey Solo is the first product that brings commercial grade access control to the masses at an affordable price."
The Nexkey Solo costs $499. Installation, if done by a professional, can range from $120 - $200 dollars, keeping total cost per door under $700 or at about one-third of a traditional access control system.
"I have never seen a customer go with another solution after seeing a quote for Nexkey", says Matt Johnston, President of The Flying Locksmiths Orange County, one of Nexkey's installation partners.
For a modest $9 per month per device, businesses get access to Nexkey's cloud service that not only allows instant access management via a mobile app but also provides intelligent insights around space utilization and movement of people through the Nexkey Portal. Both features are very important when companies start thinking about bringing people back to their offices in the coming months.
Nexkey's customers, of which it has over 200, include a broad range of businesses, from companies reinventing industries like Travis Kalanick's CloudKitchens or the Museum of Ice Cream to more traditional players like UPS stores or public institutions.
"Nexkey totally changed the way we manage access," says Jake Pelk, Battalion Chief at Central County Fire Department. "After using it at one location for about a week, we knew that this is the right platform for all our stations and decided to expand quickly. The low cost made it an easy decision to roll it out to six more locations.
"A year ago, Nexkey emerged as a name in the access control industry by launching the first solution to bring smart access capabilities to any mechanical lock through the Nexkey Core, the world's most versatile smart cylinder. With the game-changing Nexkey Solo, we're going a step further by totally disrupting the market for electronic door strikes, which up until now dominated the $10B access control market." says Eric Trabold, CEO of Nexkey. "We completed building the foundation of our business by building the most versatile and affordable access control hardware platform and are now enabling every business to get the security they need at a budget they can afford."