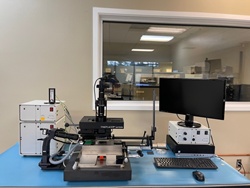 Technology is pushing the limits to the point where now this type of accuracy for die bonding is needed for our PCB microelectronics assembly.
SAN JOSE, Calif. (PRWEB) February 22, 2021
NexLogic Technologies, Inc., an EMS provider offering both PCB SMT and microelectronics assemblies, announces the installation of a highly advanced Finetech FINEPLACER® lambda sub-micron die bonder system in its PCB microelectronics assembly line. According to the manufacturer, Finetech, the new die bonder has accuracies of 0.5 µm and is designed for precision die attach and advanced chip packaging.
Zulki Khan, Founder and President of NexLogic Technologies, said, "This relatively new technology arrives at the right time when OEMs, especially medical device OEMs, are developing and producing dramatically smaller products such as wearables, IoT devices, medical ingestible, insertable, and implantable products, and an array of other types of advanced small PCB designs. Technology is pushing the limits to the point where now this type of accuracy for die bonding is needed for our PCB microelectronics assembly."
A technology called "fixed beam splitter" is among the top features of the new die bonder. This special feature provides NexLogic customers with numerous types of bonding technologies such as thermocompression, which is a specific need with the die attach process. Thermocompression is ideally suited for copper-pillar flip chip applications. Other types of bonding technologies the die bonder provides includes soldering, adhesive, and ultra-sonic.
NexLogic's new Finetech FINEPLACER lambda sub-micron die bonder will be used for state-of-the-art projects involving sensor, diode, micro-electro-mechanical systems (MEMS), biosensor applications. For sensors, NexLogic is equipped to use either diode or sensor bonding, relying on either traditional organic substrates, like FR4, polyimide, Rogers or Teflon or non-organic substrates like alumina, aluminum nitride, aluminum carbide, and boron carbide.
Along with the new sub-micron die bonder addition, a number of medical device OEM customers are taking advantage of other benefits the company's PCB Microelectronics assembly offers them. Those include: application in high resolution image processing applications, LIDAR technology, and high-end photonic products.
The company has on its premises an ISO 14644-1 Class 4/10,000 and the equivalent Federal Standard 209E (FS209E) Class 1000 clean room as an integral part of its PCB microelectronics services and manufacturing capability.
Also, the company's PCB microelectronics assembly and manufacturing line includes such leading systems and equipment as a Kulicke & Soffa (K&S) IConn MEM Plus high- performance wire bonder for gold and silver alloy wire bonding and a Nordson EFD precision fluid dispenser system.
Other equipment includes multiple Hesse Bondjet 820 fully automatic fine wire bonders, multiple MRSI 705 auto die placement devices, Janome JR3303 Robotic level flux and epoxy dispenser, TPT-HB16 Wire/Ball Bonder, Royce 620 Multi-test Bond Tester and sheer strength puller, and Keyence VK-X1000 Profile Measurement Microscope for wire bond inspection and verification.
About Nexlogic Technologies, Inc.
1995-2021 26th anniversary year and selected among the Top 10 EMS Providers in Silicon Valley.
An ISO 9001:2015, ISO 13485:2016 Certified, and RoHS compliant EMS provider,
Nexlogic is a leading electronic manufacturing services provider that offers total integrated circuit board solutions. The company was established in 1995 and serves over 200 customers a year in North America. Nexlogic's mission is to be the best electronic manufacturing services (EMS) provider to the markets it serves through high quality and an efficient manufacturing process.