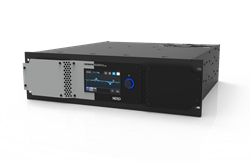 "This is our most environmentally friendly amplifier, using specially engineered Yamaha technology to smooth-out consumption spikes, optimize mains management and maximize efficiency," said Joseph Carcopino, NEXO's Director of R&D.
BUENA PARK, Calif. (PRWEB) January 16, 2020
With the new NXAMP4x4mk2 controller/amplifier, NEXO is adding a high-power flagship model to its NXAMP series of power and processing solutions.
The line of ultra-low distortion Class D amplifiers combines 32-bit/96KHz converters and 64-bit signal processing, delivering significant advances in sound quality over the highly regarded mk1 line, which has been a core component of NEXO sound systems since the NXAMP series was introduced in 2007.
NXAMP was the first result of the technological collaboration formed between NEXO and parent company Yamaha in 2005. Until then and despite its 50-year history of making amplifiers, Yamaha had not developed high-powered professional models. Since the series' introduction, the team has continually evolved the NXAMP series' power output, design, user interface and algorithms.
Today, the NXAMP4x4mk2 represents the most powerful amplifier in the range, delivering 3,300 watts per channel in four Ohms and 4,500 watts per channel in two Ohms. Weighing about 55 pounds in a sleek 3U package, the 4x4mk2 is smaller and delivers 12% more power than its predecessor.
The NXAMP4x4mk2 benefits from a new aesthetic and user-friendly interface. Users can set all functionality from the simplified front panel, which features just one knob and a large LCD color touchscreen. The tactile graphic display enables faster and easier navigation, providing direct access to all essential parameters.
On the back, four high-end analog inputs use cascaded converters for low output noise. Four digital inputs are available through the rear-panel expansion card slot offering optional AES/EBU, EtherSound™, Dante™ or AES67 inputs, all with automatic analog fallback and providing long-term network management flexibility if protocol preferences change. A native dual Ethernet port offers seamless integration with NEXO's NeMo system management software.
Users can control the amplifiers remotely and daisy-chain models through a Remote Control card fitted as standard. Additional rear-panel connectivity includes RS232 serial and general-purpose I/O ports along with Speakon outputs for each of the four channels.
The 4x4mk2 amplifier includes a new modulator chip, developed and patented by Yamaha especially for NEXO's mk2 Series. This delivers noticeable improvements over the mk1 in terms of cleaner sonic performance and more dynamic, clear and detailed high frequencies.
A mains voltage range of 100 to 240 volts makes the amplifiers compatible with worldwide power specifications and all types of generators, ideal for touring.
Despite the difficulty in implementation of Power Factor Correction (PFC) technology on large power amps, Yamaha engineers have developed a new circuit, specifically for the 4x4mk2, to ensure maximum efficiency and smoother draw, making this the greenest of NEXO's amplifiers to date.
The NXAMP4x4mk2 fits easily into a mixed rack with mk1 versions and NEXO's range of DTD amplifiers, as all latencies are exactly the same. It carries a five-year warranty, and NEXO will continue to support the NXAMP4x4mk1 as a legacy product.
"This is our most environmentally friendly amplifier, using specially engineered Yamaha technology to smooth-out consumption spikes, optimize mains management and maximize efficiency," said Joseph Carcopino, NEXO's Director of R&D. "It is smaller and lighter than the mk1 version and our design goal for the mk2 Series was to deliver a better interface and an improved sonic signature, which are all now a reality in new reference amplifier."