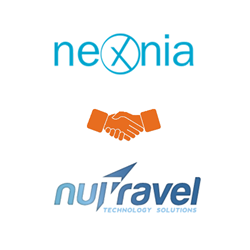 We can now deliver a world-leading integrated travel and expense experience!
Toronto, Ontario (PRWEB) July 23, 2014
Nexonia announced integration with nuTravel's travel management platform to provide Nexonia Expenses users with outstanding travel details and booking integration.
nuTravel Technology Solutions, a leader in corporate travel booking and web applications, will now be integrated with Nexonia Expenses. The upcoming integration enables seamless integration of travel details from nuTravel to Nexonia, and seamless moving between Nexonia and nuTravel that will also include full traveler profile integration.
"We're very excited to be working with nuTravel," says Neil Wainwright, CEO of Nexonia. "nuTravel is a leader in travel web technologies, and the interfaces they've made available to Nexonia have been wonderful. We can now deliver a world-leading integrated travel and expense experience and that's what we want for our customers. Our nuTravel integration is real-time, meaning travel booked in nuTravel shows up in Nexonia immediately. We've also made it very easy to set up, meaning we can now add integrated customers very quickly, resulting in our customers being able to focus on their business, which is what we're all about."
"nuTravel is pleased to offer yet another option for companies seeking expense solutions that fit for them." says Pedro Ceron, Vice President of Business Development and Client Relations at nuTravel. "Nexonia is lauded for their prowess in engineering the right expense solution for companies operating globally. Further being a Canadian company, this relationship demonstrates nuTravel's commitment to addressing the needs of the Canadian market in particular. As one of our integrated expense offerings, Nexonia extends nuTravel's modular approach to facilitate more choice and better options for our corporate users."
Nexonia Expenses integration will be available August 2014 for both Nexonia and nuTravel customers. Please contact us at info@nexonia.com for more information. For visitors at GBTA in Los Angeles, please visit Nexonia at booth #2560 and nuTravel at booth #2059.
About nuTravel Technology Solutions
Leveraging over 25 years of travel management and technology experience, nuTravel delivers the corporate travel industry's fastest, most flexible online travel booking solutions available today. Successfully pairing industry expertise with the right technology, our diverse portfolio of online travel solutions provide a robust and intuitive selection of travel content to users while delivering a smooth integration into travel management companies and corporations of any size. Since 2002, over 8,000 corporations have chosen nuTravel as their solutions provider; composed of varying sizes and industry expertise with travel budgets ranging from $50,000 to $100 million. nuTravel is also a founding member of the Mundi Global Alliance. For more information, visit http://www.nuTravel.com.
About Nexonia
Nexonia Inc. is a provider of leading web and mobile Expense Reports and Timesheets solutions. These simple-to-use and highly customizable applications are fully integrated with accounting and travel management systems. Nexonia solutions are designed to streamline the reporting and approval process, improve human resource management and enhance operational efficiency.
To receive more information, visit http://www.nexonia.com or call 800-291-4829.