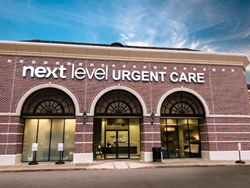 Since first recognizing a need for clinics like this nearly five years ago, as both a mom of four and physician, I couldn't be prouder of what we have been able to accomplish for families. - Juliet Breeze, MD
Houston, Texas (PRWEB) August 24, 2017
Next Level Urgent Care, LLC expands its reach in response to the changing needs of Houston families. The company, which is now recognized by patients as one of the best urgent care companies in Texas, opens a new Pearland clinic and expands hours of operation at several of its community clinics.
The new Pearland clinic located at 8325 Broadway FM 518 is expected to open in January 2018 and will make the 9th location for this patient-driven, physician-owned healthcare organization.
In response to patient needs, three of the clinics (Cinco Ranch, Sugar Land, Champions) will all have early morning hours by September 1 – opening from 7 a.m. to 9 p.m. The other Next Level Urgent Care clinics will continue to operate from 9 a.m. to 9 p.m. and feature the same convenient walk-in or advance online check-in through the Next Level Urgent Care app.
According to Next Level Urgent Care founder and CEO Juliet Breeze, MD, these changes are part of the company's ongoing effort to meet the needs of patients and improve access to quality and affordable care throughout Houston.
"Since first recognizing a need for clinics like this nearly five years ago, as both a mom of four and physician, I couldn't be prouder of what we have been able to accomplish for families. We listen to our patients and work continuously to respond to their needs – from convenient locations and hours of operation to services and programs offered at each clinic and within the community," said Breeze, who regularly meets with the Next Level Urgent Care healthcare team to discuss ways to improve clinic efficiency and patient experience.
"Our new Pearland clinic will provide all of the technology and highly qualified healthcare professionals for which our other clinics have become known. And the earlier hours of operation, beginning now at Cinco Ranch, August 28 in Sugar Land, and September 1 in Champions, will help busy moms and working professionals," Breeze added.
The company's efforts to meet patient needs has not gone unnoticed, garnering it the title of the highest ranking Urgent Care center in the area by both Google and Yelp. It was also voted "Best of Katy 2017" in Urgent Care by the readers of the Katy Times and received the 2017 Reader's Choice Award from Living Magazine for the Fort Bend County, Cypress, Richmond and Spring & Champions areas.
The company, which provides onsite x-ray equipment and a range of healthcare services for families throughout Houston - from wound care, skin disorders and ear, nose and throat conditions to gynecological issues, pulmonary care and musculoskeletal injuries – as well as school sports physicals, drug testing and other community and occupational health services, now serves as a model for urgent care clinics everywhere.
Recently named Entrepreneur of the Year by the Greater Houston Women's Chamber of Commerce and nominated by the Houston Business Journal for a 2017 C-Suite Award, Breeze is redefining "patient-centered" care in a rapidly changing healthcare environment.
Contact Next Level Urgent Care for more information, or call 281.783.8162. To download the "Get in Line Online" app, text "nextlevel" to 49798. Or, call 281.940.3015 to get in line!
About Next Level Urgent Care
The largest and fastest growing woman-owned Urgent Care organization in Houston, Next Level Urgent Care, LLC and its family of clinics are the vision of Juliet Breeze, MD, a primary care physician and entrepreneur with over 20 years of experience in healthcare. One of the first physician-owned urgent care organizations of its kind in Houston, Next Level Urgent Care represents a new type of urgent care approach.
The organization is focused on the customer experience with quality and consistency of care, delivered using proprietary systems, organizational designs and "next level" clinical and business processes. On-staff providers are procedurally trained to handle acute urgent medical conditions and are part of an established referral network and collaborative effort to facilitate continuation of care and other specialized medical services. The clinics offer extended hours seven days a week and on holidays, at a fraction of the price of hospital emergency room or ER clinic visits.