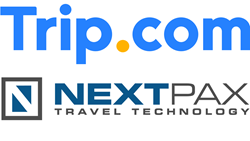 The advanced technology allows NextPax and Trip.com Group to easily build and put operational thousands of vacation rentals at a time.
ALMERE, Flevoland (PRWEB) May 18, 2020
NextPax, one of the most advanced channel management technology providers for hotels, resorts and vacation rentals worldwide and Trip.com Group, the largest travel distribution channel in Asia have launched the first completely automated connection for vacation rentals. The jointly developed API-connection not only supports prices, availability and bookings, but all other content such as photos and descriptions. The advanced technology allows NextPax and Trip.com Group to easily build and put operational thousands of vacation rentals at a time.
NextPax was already providing connectivity to thousands of hotels for Trip.com Group from around the globe. It was a natural extension of the relationship to jointly develop the connectivity and infrastructure to support vacation rentals on the company's platforms. Trip.com Group is now able to easily offer vacation rentals to its hundreds of millions of users worldwide. With the new connection, property managers through the NextPax channel management platform, can easily expand their reach to a wide audience that has been virtually impossible to reach in the past. In these difficult times, additional reach to new travelers is critically important.
'Teaming up with Vtrips' Steve Milo allowed us to put the first 2,000 US based vacation rental properties on Trip.com Group platforms,' explains Erik Engel, CEO of NextPax. 'These difficult times have further focused us on what we do best, building great technology together with our partners.'
About NextPax
NextPax is a global travel tech innovator recognized for delivering the most advanced, AI-functional solutions between property management systems and distribution channels worldwide. With an extensive network of over 600,000 properties and 50,000 hotels, NextPax is continuously expanding its reach by adding new professional property managers, hotels and channels to the network. The highly automated platform is designed to offer the most cost-effective way for hotels, resorts and vacation rentals to effortlessly promote their properties on all major distribution channels as well as numerous niche channels. The end-to-end solution can easily handle all inventory types and puts property managers in control as every visitor is directed to their own brand's website instead of to a third party website. Dedicated to their clients' success, NextPax offers tools and resources to drive conversions and maximize revenue including content optimization, real-time synchronization, PCI/GDPR secure credit card transmissions, and responsive support. NextPax is recognized as a leading innovator in hospitality technology and co-develops with industry partners like Google, Booking.com, Airbnb, Expedia, HomeAway, and TripAdvisor.
About Trip.com Group Limited
Trip.com Group Limited (Nasdaq: TCOM) is a leading one-stop travel service provider consisting of Trip.com, Ctrip, Skyscanner, and Qunar. Across its platforms, Trip.com Group enables local partners and travelers around the world to make informed and cost-effective bookings for travel products and services, through aggregation of comprehensive travel-related information and resources, and an advanced transaction platform consisting of mobile apps, Internet websites, and 24/7 customer service centers. Founded in 1999 and listed on Nasdaq in 2003, Trip.com Group has become one of the largest travel companies in the world in terms of gross merchandise value.