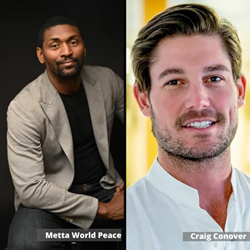 ATLANTA (PRWEB) May 03, 2021
NextUp Ventures, a firm offering strategic capital investment, sweat equity and access to an unmatched investor network to fuel startups and emerging brands within sports and entertainment, today announced the lineup for its latest NextUp StartUp Showcase on Thursday, May 20, 2021, at noon EDT. The event will feature three emerging startups presenting their business plans and capital raise objectives to NextUp Ventures' expansive network of investors, partners and other key constituents. The online session will also include a fourth startup headlining the NextUp Ventures Featured Panel.
"When we first introduced our NextUp Ventures StartUp Showcase series, we couldn't have possibly imagined how much of an overnight success it would become," said Joe Dupriest, co-founder of NextUp Ventures. "These Showcase events have delivered an incredible platform for us to connect truly innovative and disruptive sports and entertainment startups with our growing network of investors. Our first two events resulted in a number of meaningful and actionable connections, and we've received countless inquiries from new startups and investors interested in participating in future sessions. The lineup of companies and executives we have secured for this upcoming Showcase has us optimistic it will be our biggest yet."
Each of the first two NextUp StartUp Showcases welcomed more than 100 attendees from across the country, including angel investors, private equity firms, venture capital firms, industry executives plus sports and entertainment startups. For investors, the NextUp StartUp Showcase remains a strong platform to discover disruptive and breakthrough startups across sports and entertainment.
Startups presenting include: XvsX Sports (Los Angeles, Calif.), Tradeblock (Austin, Texas) and FIT (Los Angeles, Calif.). Sewing Down South will serve as the special guest for May's NextUp Ventures Feature Panel. Investors and others interested in attending can RSVP for the event at https://www.nextuppartners.com/nextup-demoday. Upon completion of registration, attendees will receive a calendar invite with a Zoom link via email.
XvsX Sports
Founded by NBA All-Star Metta World Peace, XvsX Sports provides a one-stop platform for basketball players to find organized games and leagues, connect with players and even gain exposure to turning pro. XvsX Sports gives users access to media and stats for a superior user experience and is reducing the barrier of entry to become a recognized competitive basketball player and influencer athlete. XvsX Sports also serves as a connector in the basketball world, building community and social relationships. Metta World Peace (Founder) and Heidi Buech (Director of Operations) will present for the startup.
Tradeblock
The sneaker aftermarket is booming. Over a billion dollars of investment have flowed into the space in the past 18 months, and the two biggest marketplaces in the space boast a combined valuation of more than $5 billion. Currently, there is no platform that allows you to trade sneakers shoe-for-shoe, and the existing marketplaces put little to no effort into actually building and cultivating a sense of community on their platforms. Tradeblock is one part marketplace and one part social community: a platform built specifically to combine sneakerheads' economic activities (buying, selling, and trading) with the social validation and emotional connection they get from sharing their passion for sneakers with other like-minded collectors in a digital community. These two opportunities are at the core of Tradeblock's strategy to disrupt the market. Co-Founder and CEO Mbiyimoh Ghogomu will present on behalf of Tradeblock.
FIT
FIT is a comprehensive platform for understanding the effects of head impacts in sports. Using the FITGuard smart-mouthguard, FIT provides actionable insights that empowers users to take ownership for their own brain and head-health. FIT's data can be used to understand how to improve performance, reduce risk and identify teachable moments to improve and optimize performance and recovery. CEO Anthony M. Gonzales will present on behalf of FIT.
Sewing Down South
Established in 2018, Sewing Down South is a sewing and lifestyle brand from Bravo reality TV personality, Craig Conover (Southern Charm). The brand's e-commerce site was launched in 2019, and in just two years the momentum and enthusiasm for the brand has spurred the brand's first Charleston Flagship Store. The brand has also seen great success in partnership with long-standing retailers such as Thomasville Furniture and Home Shopping Network (HSN); sewing brand BERNINA; and innovative shopping experience with NBC Universal. Conover (co-founder) Jerry Casselano (CEO and co-founder) and Amanda Latifi (co-founder) will participate in the NextUp Ventures Feature Panel with host Jake Hirshman (Life in the Front Office Podcast).
Information on additional NextUp Ventures StartUp Showcase events will be announced first on the firm's LinkedIn page https://www.linkedin.com/company/nextup-ventures/. Any startups interested in participating in or presenting at future NextUp Ventures StartUp Showcase events can submit their company information to https://www.nextuppartners.com/nextup-ventures.
About NextUp Ventures
NextUp Ventures offers strategic capital investment, sweat equity and access to an unmatched angel network to fuel startups and emerging brands particularly in the sports betting, esports, sports technology and entertainment spaces with key resources for growth and scale. The principals have experience running public companies, raising capital and executing M&A deals with successful outcomes. NextUp Ventures works side-by-side with the entrepreneurs they invest in and utilizes its expansive network, expertise and experience to add outsized value to young, sports-centric companies.
About NextUp Partners
Led by one of the most diverse and accomplished leadership teams in sports, NextUp Partners consists of veteran senior and mid-level professionals with decades of proven success across sports and entertainment properties, leagues, teams, brands and creative agencies and a multitude of C-suite level relationships from across the industry. NextUp Partners was formed to provide innovative sports-focused organizations with a broad range of efficient marketing service offerings optimized for the 2021 climate and beyond. Solutions are customized to the needs of the client and include end-to-end strategy and execution as well as affordable, fractional executives to help companies secure the resources, expertise and intellectual capital they need to grow quickly and efficiently. Core services include customer / fan acquisition and engagement, content strategy, creation and syndication, public relations, live events and experience for the new sports environment, sponsorship, monetization and new market penetration.