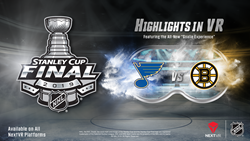 "NextVR takes the Stanley Cup Final to the next level for our fans"
NEWPORT BEACH, Calif. (PRWEB) May 22, 2019
NextVR, the leader in broadcasting live events in virtual reality, and the National Hockey League (NHL) in association with Disney Streaming Services, today announced they will offer fans free on-demand virtual reality game highlights of the 2019 Stanley Cup® Final featuring the Boston Bruins vs. St. Louis Blues.
Following each game of the Stanley Cup Final, fans will be able to access highlights in the Stanley Cup Final channel within the NextVR app. NextVR is also unveiling a completely new way to experience hockey with its "Goalie Experience" viewpoint, putting fans closer to the on-ice action than ever before and making them feel like they are in the crease at an NHL game.
"Since we launched the NHL channel on NextVR earlier this year, hockey fans have been loving the behind the glass experience. The Stanley Cup Final is an opportunity to crank things up for our fans. Unlike traditional highlights, the goalie experience will enable fans to center their attention on the most crucial moments of the games," said Danny Keens, Vice President of Content at NextVR.
"The intensity, speed and excitement of our game hits an all-time high during the Stanley Cup Final," said Chris Golier, NHL Vice President of Business Development. "NextVR takes this to the next level for our fans by enhancing the natural sound of the arena and magnifying the goalie experience, such as with camera placements near the nets. Fans will actually be able to feel the puck slide into the net and hear the players' skates scraping on the ice more vividly than ever before."
Currently, fans can experience VR highlights of the 2019 Honda NHL® All-Star Game and 2019 Stanley Cup® Playoffs for free inside the NextVR app.
NextVR is available on nearly all existing VR platforms. Fans can download the free NextVR app from stores associated with the following platforms: Oculus Go, Oculus Rift, PlayStation VR, HTC VIVE Pro, HTC Vive Focus, HTC VIVE, Windows Mixed Reality, Gear VR, Google Daydream and STEAM.
Visit nextvr.com and follow @NextVR on Twitter and Instagram and NextVR on Facebook for programming announcements.
### (May 22nd, 2019)
NHL, the NHL Shield and the word mark and image of the Stanley Cup are registered trademarks of the National Hockey League. All Rights Reserved.
About NextVR
NextVR is the world's best virtual reality platform for delivering live sports and music in VR to fans globally. Launched in 2009, the company has patented technology that delivers an unparalleled VR experience providing fans extraordinary access and profound immersion. NextVR has world-class partnerships with leaders in sports and entertainment, including the NBA, NHL, WWE, FOX Sports, Live Nation, and the International Champions Cup. NextVR was founded by industry leaders with decades of experience in 3D stereoscopic imaging, compression technology and VR broadcasting. For more information, visit NextVR.com.
About the NHL
The National Hockey League (NHL®), founded in 1917, consists of 31 Member Clubs and proudly welcomes its 32nd franchise, based in Seattle, for the 2021-22 season. Each team roster reflects the League's international makeup with players from more than 20 countries represented, all vying for the most cherished and historic trophy in professional sports – the Stanley Cup®. Every year, the NHL entertains more than 670 million fans in-arena and through its partners on national television and radio; more than 151 million followers - league, team and player accounts combined - across Facebook, Twitter, Instagram, Snapchat and YouTube; and more than 100 million fans online at NHL.com. The League
broadcasts games in more than 160 countries and territories through its rightsholders including NBC/NBCSN and the NHL Network™ in the U.S., Sportsnet and TVA in Canada, Viasat in the Nordic Region and CCTV and Tencent in China. The NHL reaches fans worldwide with games available online in every country including via its live and on-demand streaming service NHL.TV™. Fans are engaged across the League's digital assets on mobile devices via the free NHL® App; across nine social media platforms; on SiriusXM NHL Network Radio™; and on NHL.com, available in eight languages and featuring unprecedented access to player and team statistics as well as every regular-season and playoff game box score dating back to the League's inception, powered by SAP. The NHL is committed to building healthy and vibrant communities through the sport of hockey by increasing youth participation and engagement; fostering positive family experiences; promoting inclusion, positive culture and leadership; and supporting sustainable community impact.
About Disney Streaming Services
Disney Streaming Services is a business unit within The Walt Disney Company's Direct-to-Consumer and International (DTCI) segment that oversees consumer-facing digital video subscription services across the company. Disney Streaming is responsible for developing and operating The Walt Disney Company's direct-to-consumer video businesses globally, including the ESPN+ premium sports streaming service, programmed in conjunction with ESPN; the upcoming Disney+ streaming service; and Bamtech Media, a global leader in direct-to-consumer video streaming products and solutions. In addition to first-party apps, Disney Streaming operates the flagship NHL app and out-of-market package, NHL.TV, in partnership with the National Hockey League. Its core mission is to deliver global audiences the freedom to access content on their terms across any connected device, time or location.
Media Contacts:
Marie Sornin
NextVR
press@nextvr.com
Brad Klein
NHL
212-324-8140
bklein@nhl.com
Jessica Casano-Antonellis
Disney Streaming Services
Jessica.Casano@disney.com