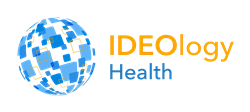 Scientific collaboration is the most effective way to fight disease and we are hopeful that with our team of the world's leading medical experts we can share more knowledge, improve care, and help physicians do what they do best – save and improve patients' lives, " says CEO Mike Gramling
AUSTIN, Texas (PRWEB) April 26, 2021
Nexus Health Media, an Austin, Texas-based medical education company today announced the completion of a renaming process, reforming itself as IDEOlogy Health. IDEOlogy Health is a cutting-edge digital information platform and collaboration hub where globally renowned experts provide physicians with up-to-the-minute scientific treatment advances and facilitate exchanges of the latest advances in scientific medical data, treatment updates, and practice defining medicine.
IDEOlogy Health features several subdivisions within the organization that advance the latest science within specific medical subfields. Since its launch, IDEO Oncology (formerly known as Nexus Oncology) has added more than 100 oncology thought leaders to their faculty, hosted over 200 collaborative medical education events and reached more than 11,000 oncology healthcare professionals through its digital SoundBites platform.
"The COVID-19 pandemic has shown us how critical health care professionals and scientists are to the global effort of combating disease in all forms, including cancers. Scientific collaboration is the most effective way to fight disease and we are hopeful that with our team of the world's leading medical experts we can share more knowledge, improve care, and help physicians do what they do best – save and improve patients' lives, " says CEO Mike Gramling.
IDEOlogy Health subscribers will have access to private interview discussions with known experts, video seminars, training sessions and conferences. Healthcare professionals are encouraged to participate and help stay current with rapidly changing treatment landscapes and learn new ways to diagnose and treat for better patient outcomes.
IDEOlogy Health also launched IDEO Hematology and is expected to launch their next division, IDEO Cardiology, later this year.
About IDEOlogy Health:
IDEOlogy Health is disrupting the status quo in how medical education is delivered and received by informing physicians with up-to-the-minute scientific treatment advances in different diseases right at their fingertips. They leverage decades of healthcare expertise and emerging technology to provide data, analysis and educational opportunities from experts across the globe.