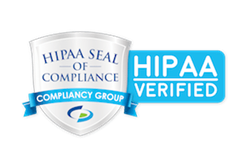 HERNDON, Va. (PRWEB) November 13, 2019
nexVortex, a leader in high-quality cloud communications and an industry expert in both SIP Trunking and Hosted Voice, announced that their cloud communications portfolio has completed the HIPAA verification process as needed to meet Health Insurance Portability and Accountability Act standards for providers of communication services to healthcare professionals.
As more and more healthcare organizations move their communications to the cloud, they need to ensure they are working with a communications provider who is aware of the laws surrounding patient information and is committed to protecting patient privacy. A key component of HIPAA compliance for a healthcare organization is to ensure that their communications provider (defined as a "business associate") has gone through the proper process and is able to provide the healthcare organization with a Business Associate Agreement (BAA).
nexVortex invested in and completed the compliancy certification process through a noted third-party organization and can provide healthcare professionals with a BAA upon request.
"Healthcare is an important vertical market for us," said Ron Byer, nexVortex Director of Cloud Communications. "By investing in and achieving HIPAA compliance, we demonstrate to our healthcare customers that they are important to us, and we share in their responsibility to protect patient information."
Channel partners or customers who require a BAA from nexVortex can contact us directly at +1.855.639.8888 or via email at sales@nexvortex.com.
About nexVortex
nexVortex has been delivering business cloud communication services for over 13 years and is an industry leader in SIP trunking, multisite applications, hosted voice, hosted contact centers, and customized solutions. Our award-winning Managed SIP (mSIP) and Managed Hosted Voice (mHV) services deliver Quality, Availability, and Visibility. mConnect, our SD-WAN service, builds on this legacy. nexVortex has established itself in the marketplace based on four overarching tenets: Uncommon Service, Uncommon Know-How, Uncommon Commitment, and Uncommon Innovation. These core principles and competencies drive nexVortex's mission to provide its customers with the IP knowledge, services, and capabilities they need to improve their business communications. Visit http://www.nexVortex.com, follow us on social media, and learn how we can help you meet your business needs.
nexVortex Media Contact:
Chuck Harris
(571) 267-5774
charris@nexVortex.com