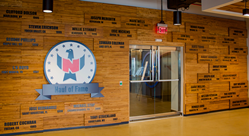 Our drivers exemplify our values and we appreciate the contributions these individuals have made to keep North America's supply chains running.
CAMDEN, N.J. (PRWEB) September 17, 2020
NFI, a leading supply chain solutions provider, recently inducted 10 company drivers from across North America into its Haul of Fame. The second annual event took place virtually on Wednesday, September 16, and recognized drivers who have worked for NFI for at least 20 years or have driven two million consecutive accident-free miles. NFI's inaugural Haul of Fame took place in October 2019, where it inducted 21 company drivers at its Camden, N.J. headquarters.
Founded in 1932, NFI is a privately-held and family-owned company with 350 locations across North America. Out of NFI's 13,100 employees, over 3,000 company drivers operate its dedicated fleet. NFI's drivers are essential in establishing the company's position as a top dedicated transportation provider and play a vital role in delivering value to customers throughout a diverse array of industries. In addition to transporting goods safely, efficiently, and on-time, NFI's drivers continuously go above and beyond to provide exceptional customer service.
"NFI's Haul of Fame drivers set the standard for excellence at NFI and throughout the industry," said Sid Brown, CEO of NFI. "As we celebrate this impressive milestone, we are grateful for their dedication to NFI and commitment to safety. Our drivers exemplify our values and we appreciate the contributions these individuals have made to keep North America's supply chains running."
Safety is a core value at NFI and the company's drivers help ensure the wellbeing of its communities by performing their jobs in a safe and reliable manner. Safety is reinforced throughout the entire employee experience and NFI's dedicated model lends to increased safety due to greater consistency and familiarity for drivers. Further, NFI continually invests in new and innovative equipment and technology to enhance safety and performance. In addition to outfitting its dedicated fleets with the latest technology, the company emphasizes preventative maintenance utilizing predictive analytics.
Named an Inc. 5000 Fastest Growing Private Company, as well as a Philadelphia Business Journal Largest Employer for 2020, NFI has also been named a Top Company for Women to Work for in Transportation and a Delaware Valley Top Workplace. With a focus on the employee experience, NFI prioritizes creating a safe environment conducive to diversity, collaboration, and development. Learn more about working for NFI and explore NFI's variety of driver jobs for company drivers, owner operators, and new and returning drivers here.
# # #
About NFI -- NFI is a fully integrated North American supply chain solutions provider headquartered in Camden, N.J. Privately held by the Brown family since its inception in 1932, NFI generates more than $2 billion in annual revenue and employs more than 13,100 associates. NFI owns facilities globally and operates approximately 50 million square feet of warehouse and distribution space. Its dedicated fleet consists of over 3,000 tractors and 12,500 trailers operated by 3,000 company drivers and leveraging partnerships with 400 owner operators. NFI has a significant drayage presence at nearly every major U.S. port, leveraging the services of an additional 1,500 owner operators. The company's business lines include dedicated transportation, distribution, brokerage, transportation management, port drayage, intermodal, global logistics, and real estate. For more information about NFI, visit http://www.nfiindustries.com or call 1-877-NFI-3777.