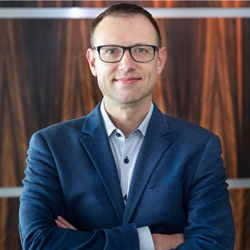 As the industry continues to adopt new technology, we will be able to better leverage data to create greater transparency, streamline operations, and better forecast needs.
CAMDEN, N.J. (PRWEB) July 23, 2020
David Broering, President of Non-Asset Solutions at NFI, will participate in FreightWaves' live webinar taking place on Tuesday, July 28 at 2:00 p.m. Eastern Daylight Time. The hour-long virtual session, which is free and open to the public, is entitled "Using Technology for Sustainable Competitive Advantage in the Supply Chain." The panelists will discuss new supply chain technology and offer insight into how it can be utilized by shippers to gain better visibility and control of their operations.
Founded in 1932, NFI is a leading end-to-end supply chain solutions provider with over 300 locations spanning North America. The company is committed to delivering outstanding customer service and reliability across a diverse range of industries, including retail, food and beverage, consumer packaged goods, and manufacturing. NFI's non-asset logistics solutions include brokerage, transportation management, intermodal, and global logistics. NFI's brokerage team of over 250 employees across 10 locations plays a significant role in the company's logistics capabilities and continues to grow, moving more than 300,000 shipments annually. With more than 40,000 carrier partners, the company's specialized brokerage capabilities span committed capacity, refrigerated, consolidation, flatbed, over-dimensional, intermodal, car hauling, final mile, and more.
"Supply chain technology continues to rapidly grow and evolve, and has the potential to completely change the face of the industry as an enabler of business growth," said Broering. "As the industry continues to adopt new technology, we will be able to better leverage data to create greater transparency, streamline operations, and better forecast needs. By aligning with a 3PL partner that is leading technology trends, shippers can ensure their operation remains at the forefront of innovation."
NFI is dedicated to exploring new technology to provide innovative solutions for its customers, such as artificial intelligence, digital twins, and business intelligence. The company continues to invest in creating and developing its own tools to empower employees and identify efficiencies for customers. In addition to developing in-house solutions, NFI partners with various industry-leading technology providers to generate comprehensive solutions that enhance visibility for customers and optimize their supply chains.
Register for the event here.
About NFI -- NFI is a fully integrated North American supply chain solutions provider headquartered in Camden, N.J. Privately held by the Brown family since its inception in 1932, NFI generates more than $2 billion in annual revenue and employs more than 13,000 associates. NFI owns facilities globally and operates approximately 50 million square feet of warehouse and distribution space. Its dedicated fleet consists of over 3,000 tractors and 12,500 trailers operated by 3,000 company drivers and leveraging partnerships with 400 owner operators. NFI has a significant drayage presence at nearly every major U.S. port, leveraging the services of an additional 1,500 owner operators. The company's business lines include dedicated transportation, distribution, brokerage, transportation management, port drayage, intermodal, global logistics, and real estate. For more information about NFI, visit http://www.nfiindustries.com or call 1-877-NFI-3777.