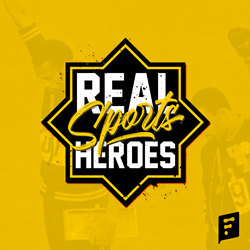 NEWARK, N.J. (PRWEB) February 02, 2021
ABF Creative today released a groundbreaking new podcast series titled, "Real Sports Heroes," a platform for professional athletes of color to lend their influential voices beyond the playing field to impact change in the social justice and racial equality issues that continue plaguing the United States.
The voice of the American sports star has never been more influential. Yet athletes in recent years have been sidelined for their statements or actions in protest of issues such as police brutality, with executives and fans calling for them to focus their public opinions solely on the games they play.
Despite this pushback from some in the community, these athletes bring a diverse set of backgrounds and experiences that make their voices relevant to this critical national conversation.
"Real Sports Heroes" is rooted in the social activism of sports legends such as Jackie Robinson, Bill Russell and Venus Williams to advance issues ranging from civil rights to the gender pay gap, and it's inspired by the more recent work of LeBron James, Colin Kaepernick, Doc Rivers and others to confront police brutality and racial injustice. The series examines the biggest stars of color from the NFL, NBA and beyond and lets them tell their personal stories about growing up Black or Brown in America, how these experiences impacted who they are today, and why they think their voices must be heard to deliver on the promises of social justice and equality.
The initial release of "Real Sports Heroes" will include five episodes focused on these star NFL and NBA sports professionals:
Feb. 2: Herm Edwards: Head football coach at Arizona State University, former NFL head coach of the New York Jets and Kansas City Chiefs, and former ESPN analyst
Feb. 9: Malik Reed: Current linebacker with the Denver Broncos
Feb. 16: Cedric Maxwell: Legendary forward for eight seasons with the Boston Celtics, 1981 NBA Finals MVP, and current Celtics team radio analyst at WBZ-FM
Feb. 23: Brian Jones: All-conference linebacker at the University of Texas, six NFL seasons with the Indianapolis Colts, Miami Dolphins, Los Angeles Raiders, and New Orleans Saints, and longtime college football analyst with CBS
March 2: Qadry Ismail: 10-year NFL veteran wide receiver with the Minnesota Vikings, Miami Dolphins, New Orleans Saints, Indianapolis Colts, and the Super Bowl XXXV Champion Baltimore Ravens
"Our goal with 'Real Sports Heroes' is to capture conversations that amplify the experiences of Black athletes who believe they should not be shunned or scrutinized for voicing opinions that go beyond the 'swim lanes' of their profession," said Anthony Frasier, CEO of ABF Creative. "We are honored and privileged to connect with these true sports heroes to publicize their struggles and achievements to inspire needed cultural change."
"Real Sports Heroes" is available now on Apple Podcasts, Spotify and wherever you get your podcasts.
About ABF Creative:
ABF Creative develops and distributes original and branded podcasts for multicultural and underrepresented audiences. Its mission is to bridge the gap between authenticity, storytelling, and marketing. ABF Creative's current and past podcast partnerships include Audible, Prudential Financial, The GRAMMY Museum Experience, Brooklyn Museum, and Black Entertainment Television. For more information visit https://www.abfc.co/.