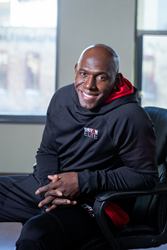 MILWAUKEE (PRWEB) September 16, 2020
Premium, direct-to-consumer men's leather footwear and accessory brand, Moral Code, is pleased to announce its collaboration with NFL legend, Donald Driver.
Driver, who overcame poverty and homelessness to become a Super Bowl champion, Green Bay Packers all time-leading receiver, Green Bay Packers Hall of Famer, New York Times bestselling author, "Dancing with the Stars" champion and award-winning humanitarian, is now the first exclusive brand ambassador for WDM Footwear and Accessories, the Wisconsin-based private label production and e-retailing business which owns and operates both the Moral Code and Milwaukee Boot Company brands.
As part of his exclusive ambassadorship, Moral Code and Driver will collaborate on a special design project to launch a "Donald Driver" shoe in early 2021. The partnership, which includes a significant philanthropic component, will focus on teaching young men the power of dressing for success and will drive resources to several of Driver's long standing charitable foundations and endeavors. Driver will also appear in an ad campaign timed to the launch of his shoe.
"Fashion has always been a part of my life and I'll never discredit how my clothing choices have impacted the way people have taken me seriously throughout the years," said Donald Driver. "Your style, your attire — even something as simple as your shoes — can transform your image and change the way people perceive you. This is something I've always worked hard to make sure my 17 year old son understands and something I'm committed to educating other young men about, particularly in the Black Community. I'm excited to bring more visibility to this message through my partnership with Moral Code, creating a shoe that has meaning behind it."
"We are very excited to have Donald join our team, as our first brand ambassador," said WDM CEO and Founder, Mark Kohlenberg. "Donald is a terrific representative of our core customer and adds a new dimension for Moral Code to further engage this audience in an authentic way. As a brand, our 'moral code' has always been driven to make a positive impact on those around us - we want to create products that make people look good, while feeling good. Donald has made a significant impact on not only our local community, but on empowering future generations across the country -- and he looks good doing it. We are thrilled to be supporting his Foundation and charitable initiatives as part of this collaboration and look forward to a long and successful partnership together."
ABOUT WDM FOOTWEAR & ACCESSORIES
WDM has experienced incredible growth over the last four years, including its private label business with dozens of well-known brands and the launch of two direct to consumer leather footwear and accessories brands, Moral Code and Milwaukee Boot Company.
WDM launched Moral Code in 2018 as one of the first direct-to-consumer menswear brands that cut out the middleman to make luxury leather footwear and accessories available at affordable prices. In 2019, WDM expanded its digitally native brand with the opening of its first physical retail location, the Milwaukee Boot Company, based in Milwaukee's Walker's Point neighborhood. Then, in August 2020 amidst the pandemic, WDM released the first Milwaukee Boot Co collection online, a line of premium leather boots and accessories inspired by Milwaukee's deep history in leather goods—and developed in response to the menswear industry's major shift towards the casualization of footwear.
ABOUT DONALD DRIVER
Donald is the Green Bay Packers all-time leader in receptions and receiving yards and is the only player in franchise history to record seven 1,000 yard receiving seasons. A top performer his entire career, he was a four-time Pro Bowl selection. Donald's on-field success and charismatic personality earned him an invitation onto "Dancing with the Stars" with 35 million viewers tuning in every week. With millions of fans behind Donald and his partner Peta Murgatroyd, the duo clinched the competition. Since then, Donald has served as a guest correspondent for ABC's "Good Morning America" nearly a dozen times, guest-hosted "The View" and "Ellen," and appeared on "Jimmy Kimmel Live," "On Air with Ryan Seacrest," "Entertainment Tonight," CNN, ESPN, NFL Network, People Magazine, the Los Angeles Times, and numerous leading media outlets.
Donald has continued to showcase his desire to give back through his television show "The Hero Effect" on Oprah Winfrey's network OWN. Co-hosted by himself and actress Emily Wilson, the inspirational docuseries showcases stories of ordinary individuals who are making extraordinary differences in their communities.
Known for his incredible fitness during his playing career Donald has become a renowned health and wellness expert. Driver released the chart topping book, The 3D Body Revolution. The book is the ultimate workout and nutrition blueprint to get healthy and lean. Additionally, Donald owns and operates three Driven ELITE Fitness and Health centers in Texas.