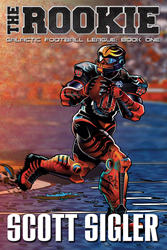 "We wanted to celebrate the crystal anniversary of our 'Scott Sigler Audiobooks' podcast, and also provide some tasty reads to science fiction fans that can't afford new books right now."
SAN DIEGO (PRWEB) April 28, 2020
To celebrate 15 years in podcasting and to provide free reading entertainment during the COVID-19 shutdown, Empty Set Entertainment is giving away 11 eBooks by #1 New York Times bestselling novelist Scott Sigler. Nine of the eBooks are from Sigler's "Galactic Football League" series, which the author describes as STAR WARS meets THE GODFATHER meets ANY GIVEN SUNDAY.
"This is a gift to my readers, as well as the people they know and love," Sigler said. "We wanted to celebrate the crystal anniversary of our 'Scott Sigler Audiobooks' podcast, and also provide some tasty reads to science fiction fans who can't afford new books right now."
The downloadable bundle includes epub and .mobi versions of the books, which means they can be loaded on Amazon Kindles, iPhones, iPads and Android devices as well as be read on desktop and laptop computers.
The GFL books are also available in print from Amazon or local bookstores, and as audiobooks at Audible and iTunes.
There are several links people can use to download the eBook bundle:

"The timing of our free eBook bundle dovetailed nicely with the NFL Draft," said AB Kovacs, co-founder of Empty Set Entertainment. "Considering that no one is sure if the 2020 NFL season will happen, people might need some related content, and we have it."
The bundle includes a guide to the reading order for the GFL novels and novellas, two of Sigler's short-story anthologies (BLOOD IS RED and BONES ARE WHITE), and a sneak-preview of the thriller EARTHCORE, which was a #1 bestseller on the Horror and Science Fiction charts of both Amazon and Audible.
INCLUDED IN THIS BUNDLE:

GFL Book I: THE ROOKIE
GFL Book II: THE STARTER
GFL Book III: THE ALL-PRO
GFL Book IV: THE MVP
GFL Book V: THE CHAMPION
THE DETECTIVE, a GFL novella
THE REPORTER a GFL novella
TITLE FIGHT a GFL novella
THE RIDER a GFL novella
BLOOD is RED short story anthology
BONES are WHITE short story anthology
A sneak-peek PDF of the first fifty pages of EARTHCORE
The GFL series is YA-friendly. Book I, THE ROOKIE, is Lexile-ranked 870L, which means it is suitable for young adults grade 5 and up. The short story collections and the EARTHCORE sample are not YA-friendly.
Audiobook fans can subscribe to Sigler's free, weekly fiction podcast at http://www.scottsigler.com/subscribe.
Galactic Football League series overview:
galacticfootballleague.com
Set in a lethal pro football league 700 years in the future, GFL stories combine the intense gridiron action of ANY GIVEN SUNDAY with the space opera style of STAR WARS and the criminal underworld of THE GODFATHER. In the GFL, aliens and humans alike play positions based on physiology, creating receivers that jump 25 feet into the air, linemen that bench-press 1,200 pounds, and linebackers that literally want to eat you. Organized crime runs every franchise, games are fixed, and rival players are assassinated. Follow the story of Quentin Barnes, a 19-year-old quarterback prodigy that has been raised to hate all non-human species. Quentin must deal with his racism and learn to lead, or he'll wind up just another stat in the column marked "killed on the field."
Scott Sigler overview:
scottsigler.com
Scott Sigler is a #1 New York Times best-selling author. The creator of eighteen novels, six novellas and dozens of short stories. He gives away weekly audio fiction on the "Scott Sigler Audiobooks" podcast, the world's longest-running fiction podcast. Sigler is also is a co-founder of Empty Set Entertainment, which publishes his Galactic Football League series. He lives in San Diego, CA, with his wee little dog Reesie. Both Scott and Reesie are diehard Detroit Lions fans.
Empty Set Entertainment overview:
emptyset.com
Empty Set Entertainment creates great stories in multiple formats, including limited-edition hardcover novels, trade paperbacks, eBooks and audiobooks.
Images for this story:
• Book cover for THE ROOKIE

Social Media links for Scott Sigler
• Twitter @scottsigler
• Instagram @scottsigler

Contacts:
AB Kovacs
Co-Founder, Empty Set Entertainment
info@emptyset.com / (858) 336-3462