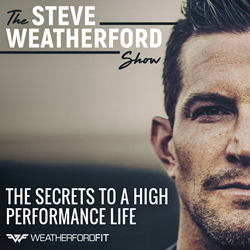 This is not your average podcast.
ENCINITAS, Calif. (PRWEB) September 26, 2018
NFL Super Bowl champion and fitness entrepreneur Steve Weatherford has launched a podcast featuring unscripted, candid discussion of his journey to success and the mental fortitude required to achieve an individual's ultimate goals. The Steve Weatherford Show: The Secrets of a High-Performance Life launched on Monday, September 24, 2018, and offers a unique, casual podcast experience with listeners feeling as if they're in the room with Weatherford and his guests.
"This is not your average podcast," said Weatherford. "It will be intimate, authentic and real. It's for anyone who wants to be fulfilled – goal-getters, people seeking more out of life and those who want to learn firsthand from my successes and failures."
Each podcast will serve as a platform for discussion of Weatherford's triumphs, defeats, life lessons and his road to success. Issues to be addressed include mindset, mental toughness, high-performance skills and habits, success hacks, personal development, nutrition, training, challenges, struggles and his formula for prosperity. New episodes of the inspirational podcast will be released five days per week for the first four weeks. The early lineup of guests includes 5-time best-selling author and fitness personality Joel Marion; best-selling author, entrepreneur, and former professional arena football player Lewis Howes; and philanthropist and high-performing business coach Bedros Keuilian.
The Steve Weatherford Show: The Secrets of a High-Performance Life will be available on iTunes, Stitcher, RadioPublic, Google Play, Acast, Blubrry and Overcast.
The podcast launch will feature a giveaway contest, with the grand prize being an iPad pre-loaded with Weatherford's complete set of Fit programs. Additional prizes include five Apple Airpod headphones and 25 supplement bundles from Veritas Labs. Listeners can enter online, at https://weatherford5.com/contest. Additional podcast details can be found online, at https://main.weatherford5.com/podcast-page/.
###
About Steve Weatherford
Steve Weatherford is a former NFL punter, best known for his Super Bowl XLVI championship with the New York Giants. Following his professional football career, Weatherford became an entrepreneur and launched Weatherford Fit – an industry leader in cutting-edge workout routines, gear and the highest quality supplements. He has devoted much of his time to philanthropic efforts with such initiatives as Rush the Punter, Kicks for Kids, Wellness in the Schools, Second Chance Toys, the Breast Cancer Research Foundation and The Steve Weatherford Charity for Ghana. Steve and his wife, Laura, have five children and reside in California.