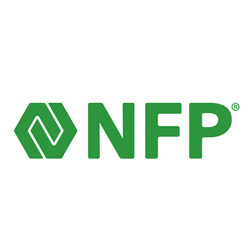 "Our focus is on helping companies enhance their cyber preparedness and mitigate the disruption of a cyber attack," said Elissa Doroff, managing director and cyber technical leader at NFP.
NEW YORK (PRWEB) February 11, 2021
NFP, a leading insurance broker and consultant that provides property and casualty (P&C), corporate benefits, retirement, and individual solutions, is partnering with NetDiligence and CyberCube to offer new analytical tools and resources to support clients as they face a variety of cybersecurity challenges.
NetDiligence provides cyber risk management software focused on cyber risk readiness and responsive services. The platform offers tools for users to assess cyber risk and data breach response planning. Additionally, NetDiligence releases a cyber claims study annually to highlight trends in cyber security across various business sizes and industries.
CyberCube offers cyber analytics that inform risk decisions. Information gathered by the platform is curated into data sets that identify risks and project the impact of a cyber event. The platform predicts trends that guide insurance placement choices and creates reports to quantify the potential loss of an uncovered vulnerability.
"Our focus is on helping companies enhance their cyber preparedness and mitigate the disruption of a cyber attack," said Elissa Doroff, managing director and cyber technical leader at NFP. "Utilizing tools like NetDiligence ensures we provide a wide variety of solutions as our clients navigate cyber threats. Cyber related incidents are on the rise, making it critical that we identify the latest tools and resources, collaborate with partners to evolve and adapt innovative coverage solutions, and continually advance our clients' preparation."
"CyberCube provides our clients with actionable, data-driven insights that support a proactive approach to cybersecurity," said Akhil Chopra, managing director and head of NFP's cyber liability practice. "It's imperative that we continue to expand our solutions to help our clients navigate a dynamic environment of cyber threats."
"We value our partnership with NFP and the opportunity to offer our product to their employer clients," said Mark Greisiger, president of NetDiligence. "Today's cyber landscape underscores the need for security tools that ensure organizations are cyber ready and have an effective response strategy in place."
About NFP
NFP is a leading insurance broker and consultant providing specialized property and casualty, corporate benefits, retirement, and individual solutions through its licensed subsidiaries and affiliates. NFP enables client success through the expertise of over 5,800 global employees, investments in innovative technologies, and enduring relationships with highly rated insurers, vendors, and financial institutions. NFP is the 5th largest benefits broker by global revenue, 5th best place to work in insurance and 6th largest US-based privately owned broker (Business Insurance); 9th commercial lines agency by P&C commercial lines revenue and 10th largest property and casualty agency (Insurance Journal); and 12th largest global insurance broker (Best's Review).
Visit NFP.com to discover how NFP empowers clients to meet their goals.
About NetDiligence®
NetDiligence® specializes in Cyber Risk Readiness & Response services. With 20 years of experience in cyber, NetDiligence is an award-winning provider of innovative cyber risk management software and services to the insurance industry, including QuietAudit® Cyber Risk Assessments, the eRiskHub® cyber risk management portal, and Breach Plan Connect®, a securely hosted solution designed to help senior managers plan and execute their organization's response to a cyber incident, and which also includes a free mobile app for convenient access and alternative means of communication if company systems are compromised. NetDiligence publishes an annual Cyber Claims Study and traditionally hosts annual Cyber Risk Conferences in Philadelphia, Santa Monica, Toronto, London, and Bermuda. NetDiligence also offers a variety of virtual programs that are free of charge to attendees and qualify for CE/CLE credits. For more information, visit https://netdiligence.com.
About CyberCube
CyberCube delivers the world's leading cyber risk analytics for the insurance industry. With best-in-class data access and advanced multi-disciplinary analytics, the company's cloud-based platform helps insurance organizations make better decisions when placing insurance, underwriting cyber risk and managing cyber risk aggregation. CyberCube's enterprise intelligence layer provides insights on millions of companies globally and includes modelling on thousands of points of technology failure.
The CyberCube platform was established in 2015 within Symantec and now operates as a standalone company exclusively focused on the insurance industry, with access to an unparalleled ecosystem of data partners and backing from ForgePoint Capital, HSCM Bermuda, MTech Capital and individuals from Stone Point Capital. For more information, please visit http://www.cybcube.com or email info@cybcube.com.