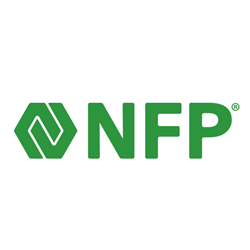 "I consistently see our employees stepping up to support each other and our clients, while exhibiting new levels of empathy, gratitude and resilience," said Doug Hammond, chairman and CEO of NFP.
NEW YORK (PRWEB) September 02, 2020
NFP, a leading insurance broker and consultant that provides property and casualty (P&C), corporate benefits, retirement, and individual solutions, today announced it has been named to Business Insurance's annual list of Best Places to Work in Insurance for the fourth consecutive year. The award recognizes employers through their employees' anonymous feedback and ratings for their outstanding performance in establishing workplaces where employees can thrive, enjoy their work and help their companies grow.
"This recognition from Business Insurance is a tribute to our employees and the inclusive culture we've worked to cultivate," said Doug Hammond, chairman and CEO of NFP. "I consistently see our employees stepping up to support each other and our clients, while exhibiting new levels of empathy, gratitude and resilience. We all take ownership in the workplace we create, and we will always embrace the opportunity to continually evolve and improve."
"For NFP, 'PeopleFirst' is a core philosophy, internally and externally, that is foundational to our success," said Ginnette Quesada-Kunkel, NFP's chief human resources officer. "People are at the heart of everything we do – from serving clients to supporting communities – and our ability to achieve our objectives starts with creating a welcoming and engaging workplace. When we do this well, we position ourselves to grow and thrive regardless of the challenges that come our way."
"We're thrilled to be named among the Best Places to Work in Insurance for the fourth year in a row," said Mary Steed, chief people officer at NFP. "As a people-first organization, we're thoughtful in creating and refining a culture that's fulfilling for current employees and attractive to professionals who may be considering a career with NFP. Being part of the list again validates that we're on the right path, even with the challenges that have emerged this year. With shared values as our guide, we will continue to listen, learn and collaborate to advance the growth and diversity of our organization, and the communities where we live and work."
Best Places to Work in Insurance is an annual sponsored content feature presented by the Custom Publishing unit of Business Insurance and Best Companies Group that lists the agents, brokers, insurance companies and other providers with the highest levels of employee engagement and satisfaction. Harrisburg, Pennsylvania-based Best Companies Group identifies the leading employers in the insurance industry by conducting a free two-part assessment of each company. The first part is a questionnaire completed by the employer about company policies, practices and demographics. The second part is a confidential employee survey on engagement and satisfaction.
The program divides employers into the categories of small, 25-249 employees; medium, 250-999 employees; and large, 1,000 or more employees. This year's report features 100 companies of various sizes, from 25 employees to more than 4,000.
The ranking and profiles of the winning companies will be unveiled as a sponsored content supplement in the October issue of Business Insurance and online at BusinessInsurance.com.
About NFP
NFP is a leading insurance broker and consultant providing specialized property and casualty, corporate benefits, retirement and individual solutions through its licensed subsidiaries and affiliates. NFP enables client success through the expertise of over 5,700 global employees, investments in innovative technologies, and enduring relationships with highly rated insurers, vendors, and financial institutions. NFP is the 5th largest benefits broker by global revenue, 6th largest US-based privately owned broker, and 8th best place to work in insurance (Business Insurance); 10th largest property and casualty agency (Insurance Journal); and 12th largest global insurance broker (Best's Review).
Visit NFP.com to discover how NFP empowers clients to meet their goals.
About Business Insurance
Business Insurance is the authoritative news and information source for executives concerned about risk and the impact on their business. With information for risk managers, insurers, brokers and other providers of insurance products and services, Business Insurance delivers in-depth analysis on new and emerging risks, case studies of successful programs, market intelligence on trends, and guidance on how to capitalize on opportunities and overcome challenges.
In addition to a monthly print magazine, Business Insurance provides essential news via its website, BusinessInsurance.com; daily and weekly e-newsletters; and breaking news via email news alerts. To subscribe, please contact Business Insurance at info@businessinsurance.com.
Best Companies Group works with partners to establish "Best Places to Work," "Best Companies," and "Best Employers" programs on a national, state-wide and regional basis. Through its thorough workplace assessment using employer questionnaires and employee satisfaction surveys, Best Companies Group identifies and recognizes companies that have been successful in creating and maintaining workplace excellence.