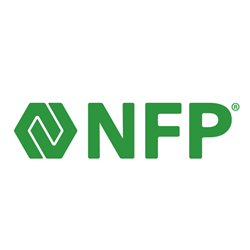 "WealthTech empowers NFP to serve the mass affluent – an often underserved segment of the market – at scale and add breadth to our portfolio of wealth management solutions," said Shawn Ellis, managing director of NFP Ventures.
NEW YORK (PRWEB) February 27, 2020
NFP Ventures, the early-stage investment arm of NFP, today announced a strategic investment in Wealth Technologies Inc. (WealthTech), the creator of a pioneering dynamic financial planning strategies platform. The investment includes plans to deploy WealthTech's suite of financial planning tools across NFP's distribution network.
WealthTech's proprietary fGPS financial planning platform allows customers to offer personalized, client-focused financial services at scale. Through analysis of personal assets, liabilities and cash flows in the context of the user's financial goals, the fGPS platform provides hyper-customized guidance that puts the client at the center of financial planning. WealthTech's technology goes beyond financial advice by creating a field of dynamic financial decision making for individuals and households with options ranging from defining and prioritizing goals, managing expenses, making credit and financing decisions, and optimizing insurance coverage.
With the investment, WealthTech will have access to NFP's current distribution capabilities in insurance and corporate wellness, with a particular focus on those clients who often can't access sophisticated financial planning solutions due to cost. Partnering with WealthTech demonstrates NFP's commitment to equipping clients with advanced advice and tools designed to enhance financial wellness.
"NFP continues to explore opportunities that allow us to serve a broader range of clients and needs," said Shawn Ellis, managing director of NFP Ventures. "WealthTech empowers NFP to serve the mass affluent – an often underserved segment of the market – at scale and add breadth to our portfolio of wealth management solutions. With WealthTech's offering, we have a path to deliver excellence consistent with the solutions we currently provide to high net worth and ultra high net worth customer segments, while adding diversity to our growing client base."
"WealthTech's intelligent solutions represent an opportunity to complement our existing individual and institutional wealth management solutions and serve a broader range of clients," said Mike Goldman, president and chief operating officer of NFP. "Not all solutions are appropriate for all customers, so providing tools designed for clients who have unmet financial well-being needs, and who may be grow into being ideal candidates for our other wealth management offerings, is an exciting differentiator."
"NFP's focus on providing exceptional advice to their clients creates an optimal environment for utilization of our financial planning tools," said WealthTech cofounder Rohit D'Souza. "We couldn't be more excited to partner with them to deploy our fGPS system across their verticals to expand their capabilities and positively impact the financial wellness of millions of customers."
About WealthTech
WealthTech is a founder funded digital finance company with deep financial services industry experience, whose principals have successfully developed, deployed and scaled groundbreaking technologies across multiple businesses and financial service sectors. WealthTech has developed innovative technology enabling the creation and operation of dynamic financial planning strategies which are significantly more flexible and powerful than existing planning technologies. WealthTech's fGPS financial goal positioning system is the first scalable, hyper-customizable implementation of this technology enabling the provision of advisor assisted or fully automated turn-by-turn guidance, encompassing all aspects of financial decisions from strategic goal formulation and prioritization, ongoing budget and expense management, balance sheet and liquidity management, credit and financing decisions, to investment allocations and risk management. WealthTech's fGPS platform reshapes the personal finance industry by allowing its partners to massively expand their capabilities and reach. For more information, visit wealthtech.com.
About NFP
NFP is a leading insurance broker and consultant providing specialized property and casualty, corporate benefits, retirement and individual solutions through its licensed subsidiaries and affiliates. NFP enables client success through the expertise of over 5,600 global employees, investments in innovative technologies, and enduring relationships with highly rated insurers, vendors, and financial institutions. NFP is the 5th largest benefits broker by global revenue, 6th largest US-based privately owned broker, and 8th best place to work in insurance (Business Insurance); 10th largest property and casualty agency (Insurance Journal); and 13th largest global insurance broker (Best's Review).
Visit NFP.com to discover how NFP empowers clients to meet their goals.
About NFP Ventures
NFP Venture, LLC (NFP Ventures) is a venture fund launched by NFP that focuses on strategic partnerships and investments in the emerging Insurtech, Fintech and HR Tech arenas. NFP Ventures' mission is to find, fund and work successfully with visionary executives, providing them with expertise to foster long-term success. Typically, NFP Ventures targets companies seeking Seed to Series B investment that can benefit from NFP's distribution, human capital and other unique assets to accelerate their growth.