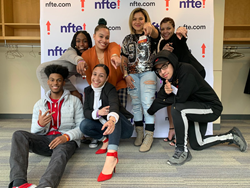 WELLESLEY, Mass. (PRWEB) March 22, 2019
NFTE (Network for Teaching Entrepreneurship), a leader in youth entrepreneurship education, and Babson College, the top-ranked college for entrepreneurship in the U.S., presented the 12th NFTE New England Youth Entreprepreneurship Summit (YES) yesterday, welcoming more than 200 students ages 14–18 to the Babson College Wellesley Campus for the event.
The event is the New England region's largest entrepreneurship conference for teens. NFTE and Babson College present YES in order to build the entrepreneurial mindset and enhance the educational journey of a rising generation of young innovators. The conference featured networking opportunities for the young entrepreneurs in attendance as well as pitch competitions, inspiring speakers, and instructive breakout sessions. Young people participating represented school communities from across New England, including Hartford, CT; Providence, RI; Framingham, New Bedford, Lowell, Easton, and Boston, MA. This year's YES event was presented by Ernst & Young, LLP (EY) with support from Santander Bank, Moody's Analytics, and BNY Mellon.
More than 50 business leaders and entrepreneurs volunteered their time to serve as business plan coaches and pitch competition judges at YES. The keynote speaker at the conference was artist, performer, and gallery owner Olivia Be' Nguyen of New Britain, CT. Nguyen, who also goes by the name Fiyabomb, is a self-taught pop artist. The artist's vibrant paintings have been shown in venues across the country and caught the attention of celebrities ranging from filmmaker Spike Lee to rap artists Big Sean, Rick Ross, Swiss Beatz, and 50 Cent. Nguyen is a dynamic speaker who draws on personal experience to explore the entrepreneurial journey.
About NFTE
NFTE is the leading educational nonprofit focused on teaching startup skills and activating the entrepreneurial mindset in young people from under-resourced communities. Research shows the entrepreneurial mindset—skills including problem-solving, adaptability, initiative, and self-reliance—leads to lifelong success. Equipped with the business and academic skills NFTE teaches and empowered by the entrepreneurial mindset, NFTE alumni are prepared to thrive. NFTE works with schools and community partners across the country through its nationwide network of program offices. Alliances with global youth development organizations bring NFTE programs to additional students internationally. NFTE reaches more than 100,000 young people annually and has served well over a million students since its founding. Learn more at http://www.nfte.com.
About Babson
Babson College is the educator, convener, and thought leader for Entrepreneurship of All Kinds®. The top-ranked college for entrepreneurship education, Babson is a dynamic living and learning laboratory where students, faculty, and staff work together to address the real-world problems of business and society. We prepare the entrepreneurial leaders our world needs most: those with strong functional knowledge and the skills and vision to navigate change, accommodate ambiguity, surmount complexity, and motivate teams in a common purpose to make a difference in the world, and have an impact on organizations of all sizes and types. As we have for nearly a half-century, Babson continues to advance Entrepreneurial Thought & Action® as the most positive force on the planet for generating sustainable economic and social value. Learn more at http://www.babson.edu.
###
Media Contact
Jennifer Green, NFTE New England Regional Director
jenniferg@nfte.com