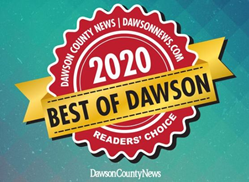 DAWSONVILLE, Ga. (PRWEB) April 09, 2020
NG Key Works, a locksmith company located in Dawsonville, has been voted Best Locksmith in Dawson County this year. As a local locksmith service who enjoys helping customers with their locksmith needs, the company was very pleased to see their name on the list of winners in this year's event.
Nick Duran, owner of NG Key Works, expressed his thoughts on this award: "Thank you to each and every person who voted NG Key Works for best of Dawson 2020, in the locksmith category. Our team is very humbled to know that we have impacted so many across this great county. From the very beginning, we have prided ourselves on offering professional results and unmatched customer service. Thank you everyone! We are truly honored."
To view the full list of winners in the Best of Dawson 2020 event, please visit: https://dawson.secondstreetapp.com/The-Best-of-Dawson-2020/.
Due to the current COVID-19 crisis, there will not be a recognition event for the winners of Best of Dawson 2020. The team at NG Key will be celebrating this victory in the safety of their homes while complying with current state guidelines regarding the Coronavirus Pandemic.
About NG Key Works
As a local locksmith service in Dawsonville, NG Key Works provides fast and friendly service to the residents of Dawson County and surrounding areas. The company boasts the ability to provide 24/7 emergency services to clients in need. They also have the capability to perform real estate locksmith services for agents who are in need of durable locks for their homes.
NG Key Works' full list of services includes:

Residential Locksmith Services
Commercial Locksmith Services
Automotive Locksmith Services
24/7 Emergency Locksmith Services
Real Estate Locksmith Services
The company is very honored to have been chosen by the community for Best Locksmith in Dawson County for 2020. The team at NG Key Works strives to provide their customers with top-quality service each and every visit. They will be working hard this year to show clients both new and old that they are deserving of this title.
To learn more about NG Key Works, please visit https://ngkey.com/.