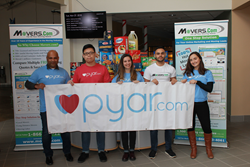 "I hope that our donation has brought a little joy to our hungry neighbors for the holiday season. Thank you to everyone who contributed."
PLAINSBORO, N.J. (PRWEB) December 02, 2018
The holiday season is a great opportunity to not only receive gifts, but to also give them, especially to those less fortunate.
Vidyadhar Garapati – CEO of NGA Group – and staff reached out to the Middlesex County community, collecting funds and non-perishable foods for those who have little or even no food this time of the year. The donations were delivered to a local charitable pantry's canned food drive.
"I am very proud to announce that we collected $500 worth of goods during our canned food drive this year," said Garapati. "I hope that our donation has brought a little joy to our hungry neighbors for the holiday season. Thank you to everyone who contributed."
The Telugu Association of North America (TANA) was also a major contributor to the food drive. TANA is a non-profit organization whose mission is to identify and address the social, cultural and educational needs of the North American Telugu community and Telugu people around the world. Garapati currently serves as Regional Coordinator of the TANA NY/NJ chapter.
The NGA Group is home to Movers.com, an online relocation portal which allows users to easily and securely request multiple free quotes from vetted moving service providers across the country. Pyar.com, another NGA Group entity, is a new online dating platform for the South Asian community across the globe. Its mission is to guide single people of South Asian heritage/nationality through the process of making meaningful matches and find lasting connections.
"I am thankful to be in a position where I can provide food for someone who may go without it," Garapati said. "It was a powerful moment for me and my staff. We are grateful for the work of our local food banks for distributing good food during this holiday season."