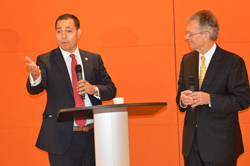 "NHIT has become one of the nation's foremost public/private collaboratives focused on issues of health disparities and health IT. But with great success comes even greater responsibility…[the NHIT team] is more than up to the challenge."
Washington, DC. (PRWEB) October 09, 2014
On Tuesday, September 16, 2014 The National Health IT Collaborative for the Underserved (NHIT Collaborative) hosted the first in a series of annual conferences to present cutting-edge strategies that use health IT (HIT) tools to advance healthcare and ultimately improve health in underserved populations. Action plans based on conference recommendations will be unveiled in April, 2015 during National Minority Health Month.
Multicultural and underserved communities comprise almost 40% of the nation's population today and are expected to be 54% of the population by 2050. With the current revolution in healthcare focusing on IT solutions to improve access and quality of care, reducing disparities for underserved communities has never been more important. Senator Tom Daschle, Senior Policy Advisor, DLA Piper, met with the NHIT leadership in a private session during the conference, saying: "There is little question in mind that if we seize this moment effectively there is an unlimited potential for improving the lives of all Americans."
Those sentiments were echoed by Aetna Foundation's President, Garth Graham, MD, MPH in his comments during the conferences' National Leaders Forum, when he urged his peers to: "focus more on the impact and change and lives that we're saving and start thinking realistically about how we achieve that."
The conference assembled national thought leaders, including Dr. Graham, across a spectrum of disciplines to offer creative solutions and actionable strategies to address disparities in care for various underserved communities. Among those featured leaders was J. Nadine Gracia, MD, MSCE, Deputy Assistant Secretary for Minority Health, and Director of the Office of Minority Health, who spoke of the road ahead, stating: "It's with strategic implementation, strategic outreach and the support and capacity building of these delivery systems... that truly health information technology can be a powerful lever for advancing health equity."
Delivering her keynote address, Karen B. DeSalvo, MD, MPH, MSc, National Coordinator for HIT at the Department of Health and Human Services also underscored the importance of collaboration: "If we are going to move ahead as a nation, this must happen collaboratively. The tent must be big, and we are committed to widening that tent so that we have as many voices and perspectives as possible…"
Commissioner Mignon Clyburn of the Federal Communications Commission summarized the potential for NHIT in her comments, saying: "NHIT has become one of the nation's foremost public/private collaboratives focused on issues of health disparities and health IT. But with great success comes even greater responsibility…[the NHIT team] is more than up to the challenge." Under the advisement and recommendation of these and other leaders, NHIT Collaborative's action plans will cover topics including:
1. HIT applications and devices
2. Strategies to support providers in technology adoption
3. Opportunities for workforce-related education, training, mentoring, and placement
4. Policy options to empower multicultural communities
"Health information technology is an invaluable tool to achieve health equity – a tool to close health gaps, empower individuals and communities and help us all attain optimal health," stated Luis Belen, NHIT Collaborative CEO.
Leading up to April, 2015, the NHIT Collaborative will deliver a series of articles exploring these topics in further detail.
About NHIT Collaborative
Since 2008, NHIT Collaborative has focused on the elimination of health disparities and attainment of optimal health for multicultural underserved communities. NHIT Collaborative works in partnership with organizations and individuals to assure that members of these communities benefit fully from HIT advances. To learn more, visit the NHIT Collaborative at NHITUnderserved.org.
Social Media:
facebook.com/pages/National-Health-IT-Collaborative-for-the-Underserved/261439702841
twitter.com/NHITunderserved
linkedin.com/groups?homeNewMember=&gid=2689939&trk=&fromEmail=&ut=25gKF7_IjHims1