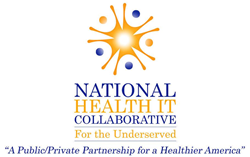 "Today's world requires access to broadband, and the provision of health services is no exception, especially for low-income populations. It's important that any program reform be able to accommodate this burgeoning area."
Washington, D.C. (PRWEB) September 10, 2015
On September 10th, 2015, the NHIT Collaborative will convene a roundtable discussion entitled, "Lifeline and Healthcare: Leveraging Mobile Health to Address Health Disparities in All Communities." The event will bring together key voices to discuss the important role the LifeLine program plays in eliminating disparities in healthcare quality and availability, as well as the challenges & opportunities for poor, multicultural and other underserved populations.
Moderated by Susan Dentzer, NHIT Collaborative Advisory Board Member, the roundtable discussions will include comments on the FCC's comprehensive proposals to restructure and modernize the FCC's Lifeline program so that it can efficiently and effectively help low-income consumers afford access to essential communications services in the 21st Century, including broadband.
"I believe the roundtable will bring together the right thought-leaders across the public, private and community sectors, to provide ongoing guidance and support for this initiative. I'm looking forward to garnering support among stakeholders to form a Healthcare IT Alliance towards this goal" said Luis Belen, CEO of the NHIT Collaborative.
"Today's world requires access to broadband, and the provision of health services is no exception, especially for low-income populations," stated Nicol Turner-Lee, Vice President and Chief Research Officer at MMTC. "It's important that any program reform be able to accommodate this burgeoning area."
"Access to quality healthcare also means access to the benefits health information technology provides often through expanded broadband services. This roundtable discussion through the NHIT Collaborative offers a valuable platform for conversation and analysis of how to begin the development of needed communications services and tools for underserved populations," said Thomas M. Leary, MA, CAE, FHIMSS, vice president, government relations, HIMSS North America.
The roundtable is hosted by the NHIT Collaborative, and co-sponsored by the MultiCultural Media, Telecom and Internet Council (MMTC), as well as the Healthcare Information and Management Systems Society (HIMSS). The agenda also includes remarks by Congressman G. K. Butterfield from North Carolina, highlighting the importance of broadband and wireless access for underserved communities.
About NHIT Collaborative
Since 2008, NHIT Collaborative has focused on the elimination of health disparities and attainment of optimal health for multicultural underserved communities. NHIT Collaborative works in partnership with organizations and individuals to assure that members of these communities benefit fully from HIT advances. To learn more, visit the NHIT Collaborative at NHITUnderserved.org.
About MMTC:
Minority Media and Telecommunications Council (MMTC) is a non-partisan, national nonprofit organization dedicated to promoting and preserving equal opportunity and civil rights in the mass media, telecommunications and broadband industries, and closing the digital divide. MMTC is generally recognized as the nation's leading advocate for minority advancement in communications.
About HIMSS
HIMSS is a global, cause-based, not-for-profit organization focused on better health through information technology (IT). HIMSS leads efforts to optimize health engagements and care outcomes using information technology. HIMSS produces health IT thought leadership, education, events, market research and media services around the world. Founded in 1961, HIMSS encompasses more than 61,000 individuals, of which 79% work in healthcare provider, governmental and not-for-profit organizations across the globe, plus over 640 corporations and 400 not-for-profit partner organizations, that share this cause. HIMSS, headquartered in Chicago, serves the global health IT community with additional offices in the United States, Europe, and Asia.