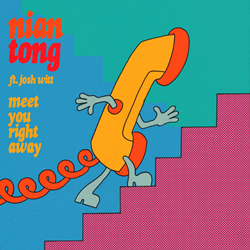 "I want to portray the emotion with a passionate, sweet and joyful sound. For me, there's no other [music] than the Motown sound that can bring that feeling out." — Nian Tong
LOS ANGELES (PRWEB) August 23, 2019
Despite being a young artist born in China, Nian Tong grew up with a love of American 1960's pop music. As he grew musically he tied in his appreciate of producers Pharrell and Mark Ronson to create a sound all his own. The love of the era and those driving bass lines inspired Tong to create his own unique sound. He released his debut split-single of songs "There Goes A Little Feelin" and "Jenny Joyce" in 2018.
Nian's latest single "Meet You Right Away", featuring vocalist Josh Witt, is sure to strike a chord with anyone who's dated in the digital era. Inspired by the artist's experience, "Meet You Right Away" is the perfect blend of old school fun and modern day vibes. The instrumentals and Josh's enthusiastic vocal melodies in this groovy jam will definitely take you back to the days of Motown.
Nian Tong on his newest release:
"I want to portray the emotion with a passionate, sweet and joyful sound. For me, there's no other [music] than the Motown sound that can bring that feeling out."
"Meet You Right Away" (ft. Josh Witt) will be released on all streaming platforms August 23rd.
About Nian Tong
Originally born in China and recently residing in New York, Nian Tong has held on to his love of 1960's sound throughout his musical career. Tong attended Berklee College of Music in 2014 and now as he prepares to move back to China, he's pushing out into the music world on his own. Follow Nian Tong on Soundcloud for new music.