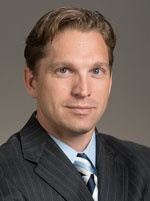 CONCORD, Calif. (PRWEB) February 12, 2019
North American Title Co. (NATC) has named Chad Nichols president of its western region, following the sale of the company to States Title, Inc. in January. He will oversee operations for 40 branch offices in the western region's premier real estate markets.
"Chad's energy and enthusiasm for every aspect of this business has brought him not only success in growing market share but also in creating loyal and motivated teams," said NATC President Dia Demmon. "More importantly, in the decade we have worked together in the western region, I have been impressed by his creative problem-solving skills, his passion for associate development, and his ability to successfully create and implement revenue building strategies."
Nichols brings two decades of experience in the industry, most recently serving as National Sales Manager for NATC. Launching his title industry career in 1999, he was quickly promoted to a sales manager position for a national title company. He later served in various positions for two additional title companies, including county manager and senior vice president, before joining NATC in 2009.
"As a leader, I am committed every day to championing the success not only of our organization, but of each individual who contributes daily to the valuable work we do for our customers," Nichols said. "It is truly an honor to be a leader in a company that is destined to transform the consumer experience and at the same time, is committed to creating the most collaborative and associate-focused environment in the title insurance industry."
Nichols received his Bachelor of Science in business administration from the University of San Francisco with honors and his Master of Business Administration from the University of California Haas School of Business. He is located at North American Title's western region headquarters at 1855 Gateway Boulevard, Suite 600, Concord, CA 94520, telephone number (925) 295-0533.
About North American Title
With close to 1,000 associates and a network of branches from coast to coast, North American Title Company (NATC) is among the largest real estate settlement service providers in the United States. Through its relationship with an expanding affiliate network, NATC provides or is able to coordinate real estate settlement services in all 50 states. With more than 100 offices across the country, NATC offers a depth and breadth of local expertise and knowledge in many of the premier real estate markets. NATC's parent company is States Title Holding Inc., headquartered in San Francisco, California. Founded by Max Simkoff and backed by a significant financial investment from Lennar and leading venture capitalists in Silicon Valley, States Title uses cutting-edge technology to deliver a modern title and escrow platform.