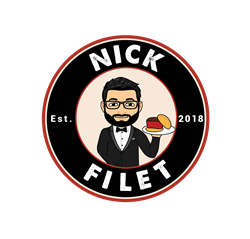 "Some might think we were crazy to take on a new twist on the steak sandwich in its birthplace of Philadelphia, but we knew there was an appetite for a high-quality take on this classic at an affordable price – and we're so excited that our customers agree."
PAOLI, Pa. (PRWEB) July 24, 2020
Nick Filet, the first-ever fast-casual restaurant offering 100% Filet Mignon steak sandwiches, was recently named among Philadelphia magazine's 2020 Best of Philly awardees. The honor specifically recognizes the restaurant's Surf and Turf Sandwich within its own category of Best Fast-Food Take on the Classic Surf and Turf.
Nick Filet was founded in 2018 by Nick Kline, a young entrepreneur who dreamed of opening his own steakhouse. At the age of 24, with two years of restaurant management under his belt, he decided to focus on bringing steakhouse-quality Filet Mignon to a casual, cost-friendly setting, opening his first location in the Philadelphia suburb of Paoli, Pa. The customer response was strong, leading to the opening of a second fast-casual restaurant in Cape May, NJ the following year. In addition to specializing in affordable, 100% real Filet Mignon sandwiches, Nick Filet offers unique twists on classic favorites, such as lobster mac and cheese, filet grilled cheese, lobster rolls, and a variety of seasoned French fries.
"Every year the Philadelphia community looks forward to checking out the top picks to make it onto the Best of Philly ranking and the Nick Filet team could not be more thrilled to be among those selected few," said Kline. "Some might think we were crazy to take on a new twist on the steak sandwich in its birthplace of Philadelphia, but we knew there was an appetite for a high-quality take on this classic at an affordable price – and we're so excited that our customers agree."
Both Nick Filet locations offer in-restaurant dining, takeout, delivery, and catering. Details regarding location hours and menu available at http://www.nickfilet.com
Looking ahead, Kline's plans include launching a franchise in order to introduce his Filet Mignon sandwiches and unique specialties to diners across the country. The first franchise is scheduled to open later this year and the company is currently seeking other prospective owners.
"We are looking for motivated business owners with a love for great food at an affordable price," said Kline. "We provide our franchisees with an efficient operational model, full training, and the support they need to launch their new business. And we have lots of fun along the way."
Additional information about franchising is available at http://www.ownanickfilet.com.
###