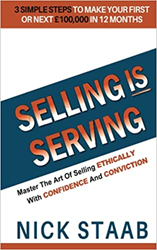 the most important role of an elite sales specialist is to help their prospects make the best logical step forward for their needs
CHELMSFORD, Essex (PRWEB) September 28, 2021
The book Selling Is Serving: Master The Art Of Selling Ethically With Confidence And Conviction, was well received on its opening launch achieving besting selling accolades on the Amazon bookstore platform, including:
Number 1 in Amazon Movers and Shakers;
Number 1 best seller in 14 paperback categories, which included Sales and Marketing, Customer Services and Sales Technique;
Number 1 best seller in 7 Kindle categories, which included Business Skills and Web Marketing; and
The book also broke into the top 100 Amazon Best Sellers list.
The author has written the book to share his insights and perspectives of the selling process. Nick has put together all that he has learnt on his own sales journey. The book has been complied on the authors tried and tested sales knowledge.
Nick believes that everyone should have their own mantra in sales and in his words "the most important role of an Elite Sales Specialist is to help their prospects make the best logical step forward for their needs."
Selling is Serving, was published in English on 13 September 2021 and is available to order on Amazon.
About Assets for Life
Assets for Life is a Property, Business and Wealth Education Co. Assets for Life Ltd a private company limited by shares registered in England and Wales, with registered number 09935286 and registered office located at Suite 105, Waterhouse Business Centre, 2 Cromar Way, Chelmsford, England, CM1 2QE. Assets for Life Ltd is registered with the Information Commissioner's Office, with registration number ZA280607.