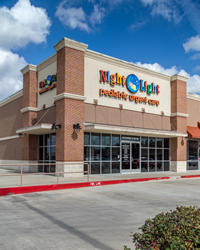 HOUSTON (PRWEB) August 18, 2020
NightLight Pediatric Urgent Care has curbside COVID-19 testing sites for newborns to adults. Results are returned within 2-4 days. PCR is the nasal swab COVID19 test.
Pediatric telemedicine visits are available from 6 a.m. to midnight and are available across Texas in both English and Spanish. All eight clinics are staffed with pediatric-trained providers and are open on weekdays 3 p.m. to 7 p.m. and weekends 12 p.m. to 4 p.m.
Many schools going back to face to face instruction require a doctor's note before a student returns to school after an illness. Nightlight is available for in-clinic and telemedicine visits to provide the return to school note for schools, camps and daycares. Sports physicals are also done at each of our clinics.
NightLight Pediatric Urgent Care has implemented several measures to provide the safest environment for patients and staff. These include adding a higher level of sanitation to already stringent cleaning policies for all rooms and surfaces in the clinics. Additionally signs are posted physically on all clinic doors and virtually on our website to deter patients who have been exposed to or have symptoms of COVID-19 from coming into the clinic. For those concerned about possible COVID-19 exposure or symptoms, we will evaluate you via a virtual visit (telemedicine) and direct you to one of our testing sites for curbside testing if needed. For patients who are in need of a physical evaluation in the clinic, we have implemented the following process to minimize everyone's exposure to infection. You will be directed to come in to quickly register. You will be provided a link to complete paperless registration and wait in the safety of your car until we are ready to see you in a sanitized room. A text message will notify the patient when it is time to go into the exam room and be evaluated. We request the fewest number of people possible to accompany the patient into the exam rooms. We request all patients and guardians to wear a face mask. All staff members wear protective equipment and face masks during patient encounters. Staff members are screened for symptoms including cough and fever before clinic opening and will be sent home if they present with symptoms. NightLight Pediatric Urgent Care strongly recommends practicing social distancing and safe hygiene.
For over 13 years, NightLight has served the Greater Houston area communities with comforting pediatric urgent care. NightLight Pediatric Urgent Care offers a no-hassle Reserve Your Spot system to hold a place in line before stepping foot in the clinic, and ensures patients are in and out the door in a timely manner. We also accept walk-in patients. With the added convenience of pediatric telemedicine, patients can see and speak to a NightLight provider from their phone, tablet, or desktop. Call 281-325-1010 with any questions. Access Nightlight via our social media networks: Facebook, Twitter, Instagram, and LinkedIn and our website http://www.nlpedi.com.
NightLight Pediatric Urgent Care's mission is to be a beacon of healing that lights up lives in every community we serve and our vision is to inspire a world where love, peace, and joy are more contagious than the flu. More information is available at http://www.nlpedi.com.