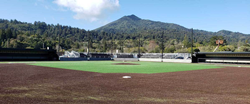 Great technical skills were taught and they were all taught in a fun way. Also, there was a great balance of learning and having fun.
SAN RAFAEL, Calif. (PRWEB) January 29, 2020
College of Marin Head Coach Steve Berringer will be adding a new camp location at Indian Valley Campus in Novato, California to go along with his highly successful camp at College of Marin, in Kentfield.
Coach Berringer has led the Mariners to success on the field over the last two decades, leading to several 4-year university scholarships for his players. The Mariners have finished first in the conference seven times under Coach Berringer and have made the state playoffs 12 times under his tutelage. College of Marin has become a force in the Northern California State Playoff.
Camp at College of Marin will be conducted in the newly renovated Alumni Stadium. The stadium underwent a renovation that is part of a $9 million project and was completed in the Spring of 2019. The state-of-the-art stadium is be one of the best facilities in the Bay Area and home to the College of Marin Mariners baseball team. The massive renovation also includes new beach volleyball courts, renovated tennis courts, new turf for the soccer field, with more improvements planned for coming years.
Camp at College of Marin in Kentfield will run Monday-Thursday and take place from June 22-25. Camp at the Indian Valley Campus in Novato will run From June 15-18. Campers of all levels are welcome to attend and improve their hitting, fielding, and throwing skills. The focus at camp will be learning and refining players' baseball skills in a fun, safe environment. Parent Lena K. said, "Great technical skills were taught and they were all taught in a fun way. Also, there was a great balance of learning and having fun."
Nike Baseball Camps provide focused, intensive training that is essential to improvement for all skill levels. Every facet of the game is covered with an emphasis on fundamentals to help players become valuable team members. At each location, campers are broken into groups with other players of similar age, abilities and goals. Each camp director does their best to advance players to the next level, keeping in consideration each camper's experience and desire to improve.
Players, coaches, and parents interested in Nike Baseball Camps can visit http://www.ussportscamps.com/baseball or call 1-800-645-3226.
About US Sports Camps
US Sports Camps (USSC), headquartered in San Rafael, California, is America's largest sports camp network and the licensed operator of Nike Sports Camps. The company has offered summer camps since 1975 with the same mission that defines it today: to shape a lifelong enjoyment of athletics through high quality sports education and skill enhancement.