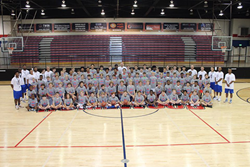 US Sports Camps is honored to work with amazing coaches who are passionate about basketball.
San Rafael, CA (PRWEB) August 25, 2017
Nike Basketball Camps, under the US Sports Camps umbrella, continued to provide the ultimate basketball camp experience for youth athletes of all skill levels, ages 5-18, this summer. Campers had the opportunity to train with top-level instructors including NCAA coaches, current and former professional players, and highly recognized local coaches at some of the country's most stunning collegiate, high school, and recreational facilities. Players worked on all facets of the game to improve their skills including morning drill stations, shooting and footwork technique, motivational lectures, and competitive scrimmages.
"US Sports Camps is honored to work with amazing coaches who are passionate about basketball, teaching, and giving kids the opportunity to have fun and improve their game. We truly value these connections and the ability to create life long memories and experiences for kids," states Brent Koonce, Senior VP of Basketball Operations at US Sports Camps.
Long time favorites, such as Sacred Heart University in Fairfield, CT and Episcopal Collegiate School in Little Rock, AR exhibited their popularity with numerous sold out sessions and long waitlists of campers eager to join in on the fun. New acquisitions, including Doug Bruno Girls Basketball Camp, SUNY Potsdam Summer Basketball Camp and Snow Valley Iowa Basketball Schools quickly climbed the charts and will be staple locations for years to come.
As 2017 comes to a close, Nike Basketball Camps is already looking forward to 2018! Next summer's dates and prices will be available early in the new year. For more information about Nike Basketball Camps, visit http://www.ussportscamps.com/basketball/nike or call 1-800-NIKE-CAMP.
About US Sports Camps
US Sports Camps (USSC), headquartered in San Rafael, California, is America's largest sports camp network and the licensed operator of Nike Sports Camps. Over 80,000 kids attended a US Sports Camps program in 2017. The company has offered summer camps since 1975 with the same mission that defines it today: to shape a lifelong enjoyment of athletics through high quality sports education and skill enhancement.