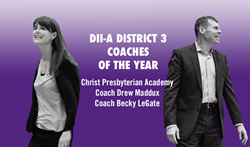 In summer 2021, Coach LeGate and Coach Maddux will return to host the ever-popular Nike Basketball Camps at Christ Presbyterian Academy.
SAN RAFAEL, Calif. (PRWEB) February 17, 2021
Being named one of the DII-A District 3 Coaches of the Year is a high honor for Coach Maddux, who led the men's program to an overall record of 22-3 with 15 of those wins coming from their district. When asked about the success of his past season, Coach Maddux said, "This has been an incredible year and I could not be prouder of a group of student-athletes and of our coaching staff. Focusing on the health and well-being of the young men we serve as the priority, it has been a blessing to watch a group of people come together with an incredibly grateful attitude to even have the chance to compete this year. We have a very talented group of players and wonderful coaches that have made this year so fulfilling."
Head Women's Coach, Becky LeGate, received this honor coming off her 11th season at CPA. In a year where most coaches and athletes saw disappointment and missed opportunities, Coach LeGate found a way to work through the hardships and make the season safe and successful. When asked about what this honor means to her and her team, Coach LeGate said, "This award is a direct result of our awesome assistant coaches and our amazing girls and families that make up our program. This year has provided a series of ups and downs for our team, in what was already considered a rebuilding year... but the positive, winning culture of our program, combined with their work ethic, determination and their never give up attitude has allowed our team to far exceed all expectations. This group is the best example of what being a great teammate is all about! They are so fun to coach and they love each other so well! We are extremely proud of them and all of their accomplishments and we are excited about the possibilities of postseason play."
In summer 2021, Coach LeGate and Coach Maddux will return to host the ever-popular Nike Basketball Camps at Christ Presbyterian Academy. They will be hosting complete skills camps and Coach Maddux will also be adding two new sessions that focus specifically on shooting. Over the course of the week, campers will work on fundamentals, offensive and defensive skills, shooting technique, and footwork in a fun and positive environment.
Players, Coaches, and Parents interested in these or other camps can visit Nike Basketball Camps or call 1-800-645-3226.
About US Sports Camps
US Sports Camps (USSC), headquartered in San Rafael, California, is the world's largest sports camp network and the licensed operator of Nike Sports Camps. The company has offered summer camps since 1975 with the same mission that defines it today: to shape a lifelong enjoyment of athletics through high-quality sports education and skill enhancement.