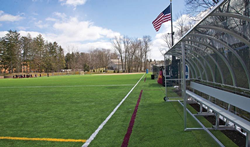 We are very excited to bring Nike and US Sports Camps to our campus.
SAN RAFAEL, Calif. (PRWEB) February 26, 2020
Located about 40 minutes north of New York City, the Nike Field Hockey Camp at St. Thomas Aquinas College in Sparkill is set to be offered this August and is open to both boys and girls. Head Field Hockey Coach, Genesis Pacheco, and the rest of the STAC coach staff will instruct and lead all drills during the program.
This is STAC Spartans are recently coming off of their 2019 season with a Northeast Conference Semifinal finish and multiple player All-Conference Honors. Pacheco and her staff are ready to continue the positive momentum by bringing the same high energy and hard work her players use to the new camp.
"We are very excited to bring Nike and US Sports Camps to our campus," exclaims Pacheco. "Here we will focus on teaching the fundamentals of the game, while also providing them with a fun, yet intensive training program to help improve their skills."
This New York field hockey camp will be offered as an All Skills program, meaning players of all ability levels are welcome to join. Under Pacheco's instruction, campers will be grouped into a ratio of 1 coach to 10 players and undergo various drills that emphasize different aspects of field hockey.
Goalies looking to work on their specific skills can expect to receive instruction from a STAC goalie coach that will teach them the various techniques used by the Spartans field hockey goalkeepers. At the end of camp, all players will be able to partake in an All-Star game that will allow them to showcase and work on the drills learned during the week of camp.
The Nike Field Hockey Camp at STAC is set to run August 10-12 and will run 9:00am-4:00pm every day.
Players, coaches, and parents interested in the program can visit Nike Field Hockey Camps or call 1-800-645-3226.
About US Sports Camps
US Sports Camps (USSC), headquartered in San Rafael, California, is America's largest sports camp network and the licensed operator of Nike Sports Camps. The company has offered summer camps since 1975 with the same mission that defines it today: to shape a lifelong enjoyment of athletics through high-quality sports education and skill enhancement.