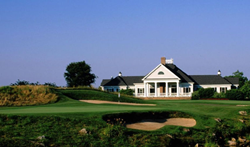 Raspberry Golf Academy is a highly reputable organization and we are thrilled to be working with them to manage and grow their junior camp operations.
SAN RAFAEL, Calif. (PRWEB) March 11, 2020
Raspberry Golf Academy (RGA) has agreed to operate summer junior golf camps in Virginia under the Nike Junior Golf Camp banner across their properties beginning in 2020. The relationship between RGA and US Sports Camps (USSC) aims to provide golfing families with greater access to quality instruction and summer opportunities.
"Raspberry Golf Academy is a highly reputable organization and we are thrilled to be working with them to manage and grow their junior camp operations," states National Director of Nike Junior Golf Camps, Nicholas Brunner. "Starting this summer, we will implement the Nike Camp model across their courses which enables us to streamline their junior camp offerings, ultimately leading to an enhanced experience for participants and the host facilities."
US Sports Camps, the nation's largest provider of sports camps, will support the RGA camp operations via their marketing expertise, administration, customer service and other support services. The programs will continue to utilize existing RGA staff on-site, keeping the style and philosophy of their respective instructors, while integrating the Nike Camp framework. The two companies will work in conjunction with the common goal of increasing participation in the sport and exposing juniors to experienced instructors.
"I am proud to announce the new partnership between Raspberry Golf Academy and Nike Junior Golf Camps. We are extremely excited to host fun, all ability level Nike camps at our RGM club locations in the Northern Virginia market," says Raspberry Golf Academy Founder and Director, Patrick McGuire.
Programs range from half day camps, which include instruction on all facets of the game, to full day camps where players also receive afternoon course play with staff. All aspects of the game are addressed during the camp session; putting, chipping, pitching, full swing, strategy, rules, and etiquette. Campers participate in drills, skills challenges, and other fun games throughout the week. Ages range from 6-16 (depending on the camp type) and the programs are coed and open to players of all skill levels and interests.
Find the complete list of RGA Nike Junior Golf Camp locations below:

About Nike Junior Golf Camps
Nike Junior Golf Camps (NGJC) is a division of US Sports Camps, Inc., America's largest sports camp network. NGJC offers junior overnight and day camps, advanced player camps and short-game camps at over 200 locations nationwide. Since 1994, more than 200,000 junior golfers have participated in the camps. To explore a variety of camp options and locations please visit the official website for Nike Junior Golf Camps.
About Raspberry Golf Academy
The Raspberry Golf Academy was founded in 2007 at the Raspberry Falls Golf and Hunt Club, Leesburg, VA. Since that time, the school has grown with locations at many of the best semi-private facilities in the Northern Virginia, Southern Pennsylvania, and Phoenix areas.